PUNJAB
HARYANA
JAMMU & KASHMIR
HIMACHAL
REGIONAL BRIEFS
NATION
OPINIONS
LETTERS
BUSINESS
SPORTS
WORLD
Every Wednesday & Saturday
Stamp of pride
Neeraj Jain relishes his dream, becomes the first city resident to get the first Pride of India stamp collection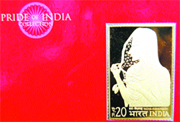 Amritsar, August 11
Neeraj Jain has become the first city resident who to get the first Pride of India stamp collection introduced by the Government of India to commemorate the 150th anniversary of the First War of Independence in 2007.
Breast Feeding Week
Eye-opener for city mothers
Amritsar, August 11
To create awarness among the masses, the Health Department and various organisations in the city observed breast-feeding awareness week here.
Money transfer from PO to bank accounts
No such facility in district for 8 years
Amritsar, August 11
Lakhs of account holders with the post offices located across the length and breadth of Amritsar and adjoining Tarn Taran districts are deprived of the facility to transfer their money from accounts in post offices to accounts in banks.
Staff's absence hits work at DTO office
August 8, 2009
Adding to holy city's green cover
August 5, 2009
Junior doctors suspend protest till Aug 5
July 30, 2009
JOB HALF DONE
July 29, 2009
Structures grow despite ban
July 25, 2009
Painting school with tremendous determination
July 22, 2009
Pritam Nagar residents battle electric fear
July 18, 2009
Disaster mgmt in a shambles
July 15, 2009
Irregularities lead to closure of chemical exam centre
July 11, 2009
Power cuts continue
July 8, 2009
Railway station to be made world-class
July 4, 2009