Government efficacy under cloud
Villagers of Lah and Jhekla devastated by a cloudburst
are living in fear of more rains, saying the govt
has done little to mitigate their suffering
BD Kasniyal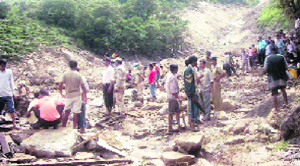 Rescuers at Mansiyari in Pitthoragarh where a cloudburst on August 8 left scores of people dead. — PTI photo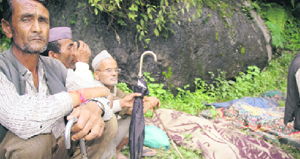 Villagers of Lah in Munsiyari sit with the corpses of their relatives.
Pitthoragarh, August 11
Villagers of Lah and Jhekla in Munsiyari subdivision where 43 persons were buried alive in a cloudburst on the night of August 8 continue to live in fear of raingods.
Twentythree families, including 18 of Malla La Daba, Jhakra and Berumahar located adjacent to Lah village are worried about their safety and want to be shifted.
"My entire family of six was killed
in the cloudburst," said a
shattered Balwant Singh, who
works in New Delhi.
"The catastrophe occurred when
the water came down gushing,
bringing with it boulders and
trees," said NS Negi, Pitthoragarh
district magistrate, quoting Rajiv
Shukla of the Geological Survey
of India, who visited the site
and took samples of the land formation there.
Eyewitnesses say the cloudburst at Bonudhunga swept away five family members of Hanumant Singh, including his three children, who where asleep.
The flood waters created by the cloudburst then reached Jhekla village, killing 12 persons. It travelled to Lah village burying 26 persons, including seven kids.
Indo-Tibetan Border Police(ITBP) personnel led by Dipti Singh, SDM, Didihat, were the first to reach the site of the tragedy. "We found most inhabitants who had escaped the nature's fury under shock," said Dipti Singh.
"We have distributed relief announced by government. Grocery items, 20 temporary fibre huts provided by the National Thermal Power Corporation and relief from some good samaritans have been given to 25 families rehabilitated at Dor," said Negi.
He said two battalions of the ITBP searching for survivors had been replaced by 70 personnel of the Sahastra Seema Bal SSB) and the police.
Though villagers of Lah, Jhekla and Daba have faced the catastrophe for the first time in the last 70 years, cloud- bursts are common inn the Himalayan region.
Families of Balwant Singh, Ganga Singh, Jay Singh , Bhagwan Singh and Shyam Singh were wiped out in the calamity.
"In my 75 years of life, I saw a calamity of this magnitude for the first time in Lah and Jhekla areas which were earlier considered safe for habitation," said Uday Singh, a resident of nearby Kweti village.
"Residents of Chachra, Raspata and Gini now get panicky whenever they see dark clouds gathering in the area," said Bhagirathi Devi, gram pradhan of Raspata.
Not only the upper Himalayan villages in the Dharchula and Munisiyari valleys but
those near Ukhimath, Joshimath, Hilang, Pathi, Garur Ganga and the Urgam Valley
in Chamoli district, Agastmuni and Sursal area in Rudraprayag district, Kanoriagad
in Uttarkashi, Bal Ganga near Tehri and Song Bharari and Pindar in Bageshwar are
prone to natural disasters, say officials of the Disaster Management and Mitigation
Centre, Uttarakhand.
"Villagers complain that no rehabilitation package has been announced by the Chief Minister for the 18 families of Lah, Raspata and Gumiadoli who fear any more rain and they are doomed," said Radhika Devi of Dafa village.
"Besides announcing relief, the Chief Minister during his visit to villages affected by the tragedy did not do anything for the people. The administration did not send relief material for the remaining villagers or give monetary aid for cremation of the dead," alleged MD Joshi, Congress spokesperson.
The Pitthoragarh SDM was suspended on charges of dereliction of duty after the massive landslides triggered by the cloudburst.
Devmurti Yadav, also the protocol officer, was suspended after it was found during the Chief Minister's visit that his performance was not up to the mark.
Meanwhile, the Uttarakhand government has urged the Planning Commission to formulate a natural disaster policy for the hills and sought a special package in the wake of the Pitthoragarh cloudburst.
At a meeting with Planning Commission deputy chairman Montek Singh Ahluwalia on Sunday, Chief Minister Ramesh Pokhariyal Nishank drew his attention to the destruction caused by the cloudburst.
He argued that a separate natural disaster policy be formulated for the hills in view of their vulnerability to vagaries of weather so that relief and rescue work can be launched more effectively.
The Chief Minister also sought a special package for the state to deal with natural calamities like cloudbursts, landslides and earthquakes.
Rajya Sabha MP Bhagat Singh Koshiyari and state BJP chief Bachi Singh Rawat are among those to have visited the affected areas. About 100 villages in Uttarakhand are prone to natural disasters.
A report by the state's Disaster Management and Mitigation Centre (DMMC) says 35 villages have been found unsafe in Chamoli district whereas in Pithoragarh 23 villages are prone to natural disasters like landslides and earthquakes. Both Chamoli and Pithoragarh districts are seismically sensitive and fall in Zone-V.