M A I N N E W S
Industry, farmers worst hit in Haryana
Ruchika M. Khanna
Tribune News Service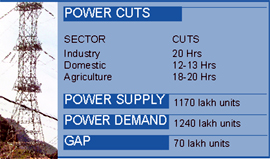 Chandigarh, August 11
The drought-like conditions prevailing in Haryana have aggravated the power crisis, with urban domestic consumers facing cuts for 12 -13 hours a day and the industry being forced to go without power for up to 20 hours a day.
Industrialists in the state claim that they face around nine hours of scheduled power cuts and around 10-11 hours of unscheduled cuts everyday.
Trilok Singh, president of the HSIIDC Industrial Estate Manufacturer Association, Sonepat, said even during the time that power was supplied to the industry, transformers were unable to take the sudden increase in load, leading to frequent tripping. "Thus, we are running our units completely on captive generation," he said.
"Even the three to four hours of supply that we get is not continuous and we cannot run operations on that supply," said another representative of the Murthal Industrial Estate Association.
The supply in rural areas for domestic use has come down to just eight to nine hours a day, while the power supply to fields for running tubewells is down to just four hours a day in most districts. While the unrelenting rain god has the farmers worried over the future of their crops, they are also faced with severe power shortage, making it difficult for them to run tubewells for irrigating their fields. With the outflows from the Bhakra Dam set to be reduced from tomorrow, the farmers are faced with a bleak future as far as their crops are concerned.
Ashish Kumar, a farmer from Bisuua village in Gurgaon, said he saw no ray of hope for his "bajra" crop. "There has been no rainfall and we are getting just four hours of supply during the day," he said. Domestic consumers in urban areas of the state are facing unscheduled power cuts ranging from eight to nine hours (in addition to four hours of scheduled cuts).
The authorities in the state power utilities, however, said the demand for power had gone up to 1,240 lakh units (LUs) a day this year. The power availability, however, was just around 1,100 LUs.