PUNJAB
HARYANA
JAMMU & KASHMIR
HIMACHAL
REGIONAL BRIEFS
NATION
OPINIONS
LETTERS
BUSINESS
SPORTS
WORLD
Wednesday, August 12, 2009, Chandigarh, India
Updated at 3:00 am (IST)

Water, power woes deepen
Bhakra curbs to hit paddy in region
Chandigarh, August 11
Punjab and Haryana will have less water for irrigation of their paddy fields from tomorrow with the Bhakra Beas Management Board reducing outflows from Bhakra Dam by 3,000 cusecs a day.
Industry, farmers worst hit in Haryana
Chandigarh, August 11
The drought-like conditions prevailing in Haryana have aggravated the power crisis, with urban domestic consumers facing cuts for 12 -13 hours a day and the industry being forced to go without power for up to 20 hours a day.
Swine flu toll reaches 12
Azad asks states to get into combat mode
New Delhi, August 11
As the nationwide toll of swine flu victims mounted from seven to 12 on Tuesday, a concerned Union Health Minister asked all states to step up surveillance and prevent the infection from spreading further.
CAST YOUR VOTE
Should schools be closed to prevent the spread of swine flu?

EDUCATION
JOBS & CAREERS
HEALTH & FITNESS
SCIENCE & TECHNOLOGY
REAL ESTATE
SPORTS
TRIBUNE CLASSIFIEDS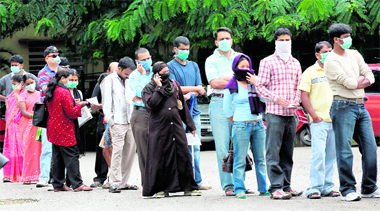 People stand in a queue for swine flu test at the Rajiv Gandhi Institute of Chest Diseases in Bangalore on Tuesday. — PTI
Earthquake jolts Andamans, Orissa
New Delhi/Bhubaneswar, August 11
A huge earthquake in the north of the Andaman islands jolted the archipelago and even the Orissa coast on the Indian mainland early in morning today. The quake that measured 7.8 on the Richter scale led to a tsunami warning that was later withdrawn. Thousands of people in Orissa and the Andamans spent the entire night on roads and fields fearing aftershocks, once the 1.25am earthquake brought them out of their beds in panic.
TODAY'S SPECIALS
AMRITSAR PLUS

JALANDHAR PLUS

J&K PLUS

HIMACHAL PLUS

JOBS & CAREERS

HEALTH & FITNESS

NDA 60 Glorious Years
1857 The First Challenge
E - Revolution 2005:
A Two-day IT conclave
Assembly Elections - 2005
Turbans
Chandigarh is 50
125 Years of The Tribune
India: The Tasks Ahead
India at Sixty
A Tribune Supplement
EARLIER FEATURES
On Sundays
On Saturdays
Fear of tsunami gave them a sleepless night
Chennai, August 11
People of the coastal Tamil Nadu, including the capital Chennai, spent a sleepless Monday night, following slight tremors and a tsunami alert, which triggered memories of December 26, 2004. People who fled from their homes and spent the night in open places amid the late night showers, started returning to their houses only after the tsunami alert was withdrawn early morning today.
'Secret' rescue mission for missing Israeli raises eyebrows
Kasol (Kullu), August 11
A group of 10 Israelis, accompanied by an equal number of local guides, today set out from Kheerganga, 26 km from Kullu, to search for the missing 24-year-old Israeli backpacker, Amichai Shtainmetz, who disappeared from a guesthouse in the area last month.
Three more deaths as govt sketches strategy
August 11, 2009
NRI, teacher new fatalities
August 10, 2009
Finally, drought reality sinks in
August 9, 2009
Govt wakes up on food front
August 8, 2009
Rush for test, only if you must: Govt
August 7, 2009
Panic in Pune as 3 more test +ve
August 6, 2009
Jittery govt rewrites H1N1 rules
August 5, 2009
First swine flu death in country
August 4, 2009
Pvt airlines call off strike
August 3, 2009
No bailout for pvt airlines: Patel
August 2, 2009