PUNJAB
HARYANA
JAMMU & KASHMIR
HIMACHAL
REGIONAL BRIEFS
NATION
OPINIONS
LETTERS
BUSINESS
SPORTS
WORLD
Disposal of hazardous waste
SC directions not complied with
Solan, August 11
With barely 22-25 per cent industrial units coming forward to dispose of hazardous waste in the Dhabota-based Shiwalik Hazardous Waste Management Plant, the apex court's directions seem to have been conveniently bypassed.
Van Sarovar scheme to conserve water
Shimla, August 11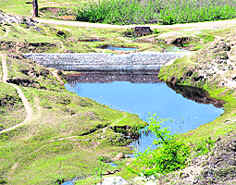 Environmentalists have been for long calling for a change in the forest policy to shift the focus from commercial exploitation of forests for timber and other products to life-sustaining natural resources like water and clean air.
A water harvesting structure in Hamirpur.

City Mobility Plan to rid Shimla of traffic snarls
August 5, 2009
Pharmaceutical units in residential areas despite ban
July 29, 2009
Trees being choked to death
July 22, 2009
Amendment to land tenancy Act sought
July 15, 2009
Wastage of public funds in Bhagsunag
July 8, 2009
Kangra admn, locals join hands to save lake
July 1, 2009
Govt mulls BOT option for water schemes
June 24, 2009
State gets another chance to set up film studio
June 17, 2009
Blame it on improper distribution
June 10, 2009