PUNJAB
HARYANA
JAMMU & KASHMIR
HIMACHAL
REGIONAL BRIEFS
NATION
OPINIONS
LETTERS
BUSINESS
SPORTS
WORLD
Kangra admn, locals join hands to save lake
Dharamsala, June 30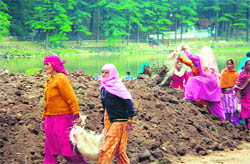 The Kangra district administration has launched an initiative to save the Dal Lake, situated in Tota Rani village, 11 km from here.
Women take out silt from the Dal Lake near Dharamsala. A Tribune photograph
From pillar to post for relief
Mandi, June 30
Even after 47 years, 360 oustee families of the 990 MW Beas-Satluj Link(BSL) power project of the Bhakhra Beas Management Board(BBMB) in Pandoh are running from pillar to post in search of relief and rehabilitation from the government.
Life in Dodra Kwar set to change
Shimla, June 30
Though efforts of the state to secure the status of a tribal area for Dodra Kwar in Rohru did not yield any result during the past more than two decades, life in the landlocked remote pocket is set to change with the construction of a motorable road.

Houses with typical hill architecture in Dodra.
Govt mulls BOT option for water schemes
June 24, 2009
State gets another chance to set up film studio
June 17, 2009
Blame it on improper distribution
June 10, 2009
Ski village project faces uncertainty
June 3, 2009
Unregulated tourism destroying Sangla valley
May 27, 2009
Power project spells doom for Nathpa, Kandar villagers
May 20, 2009
Dry spell damages apple, stone fruit crop
May 13, 2009
State to seek heritage status for Masrur temples
May 6, 2009
Unending ordeal of TGT teachers
April 29, 2009
Sonia, Mamata share dais after 8 yrs
April 22, 2009
Palampur's green cover under threat
April 15, 2009