PUNJAB
HARYANA
JAMMU & KASHMIR
HIMACHAL
REGIONAL BRIEFS
NATION
OPINIONS
LETTERS
BUSINESS
SPORTS
WORLD
Dry spell damages apple, stone fruit crop
Kotgarh/Dalash, May 12
The prolonged dry spell has damaged 80 per cent of apple and stone fruit crop in the lower and middle altitudes and doomed the prospects of a good crop in the higher sunny apple orchards. This has disappointed apple growers across the state, who have been hoping of a good crop this year.
Illegal mining thrives on misuse of tractors
Palampur, May 12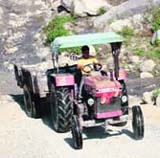 Despite the fact that the state government has restricted the use of tractors to agricultural purposes only. In Palampur, a large number of tractors are engaged in mining, quarrying, extraction of sand stone and transporting quarrying material from local streams and rivers to different towns.

A tractor engaged in mining in the Neugal river near Palampur.
Oldest rainwater harvesting system
Shimla, May 12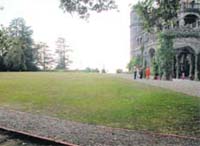 While the state government has realised the need to harvest rainwater to meet the worsening problem of water scarcity only recently, the far-sighted British engineers provided this facility in the Viceregal Lodge constructed more than 130 years ago.

The secret of perennial greenary of lawns at the Indian Institute of Advanced Study, Shimla, lies in the rainwater storage tanks located underneath and a clever mix of grasses. Tribune photo: Amit Sharma

State to seek heritage status for Masrur temples
May 6, 2009
Unending ordeal of TGT teachers
April 29, 2009
Sonia, Mamata share dais after 8 yrs
April 22, 2009
Palampur's green cover under threat
April 15, 2009
Encroachments threaten Pong wetland
April 8, 2009
Palampur witnesses spurt in crime
April 1, 2009
Parents, teachers vow to make Tanda college ragging-free
March 25, 2009
District Red Cross societies come under a cloud
March 18, 2009
Where traffic jams are order of the day
March 11, 2009
HPMC in bad shape
March 4, 2009
BJP, Cong intensify campaign
February 25, 2009
Leading a life of neglect, penury
February 18, 2009