PUNJAB
HARYANA
JAMMU & KASHMIR
HIMACHAL
REGIONAL BRIEFS
NATION
OPINIONS
LETTERS
BUSINESS
SPORTS
WORLD
Leading a life of neglect, penury
Chamba, February 17
With the restrictions to go up on the highland pastures for grazing the livestock in the border forests of Churah and Salooni tehsils of Chamba district, monad gujjars, shepherds and locals are forced to embrace extreme poverty. These areas now present a picture of grinding poverty and sheer neglect.
Mobile phone towers a nuisance
Shimla, February 17
Unmindful of the harmful effects of mobile towers in
thickly populated residential areas, the local municipal
authorities rather than enforcing the laid down
guidelines for their installation are more keen to rake
in money into their coffers.
Navgrah Vatika to help conservation
Hamirpur, February 17
The forest department has taken a unique initiative to set up a Navgrah Vatika at Hamirpur which would not only provide a place to people to worship plants countering planetary effects, but would also help conservation.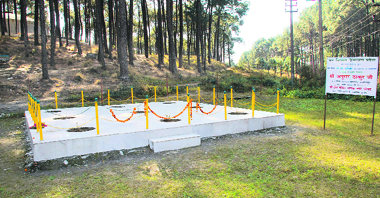 The Navgrah Vatika in Hamirpur. A Tribune photograph
Dense forest turns into garbage dump
February 11, 2009
Unplanned construction in high seismic zone
February 4, 2009
Kipling trail to be developed for tourism
January 28, 2009
Govt in a fix over power board's trifurcation
January 21, 2009
Arboretum for flora conservation
January 14, 2009
Ski resorts in state of neglect
January 7, 2009
Villagers for awareness drive to avoid fire mishaps
December 31, 2008
Cinema houses lose business
December 24, 2008
Projects named after martyrs left midway
December 17, 2008
A boon for state's farmers
December 10, 2008