PUNJAB
HARYANA
JAMMU & KASHMIR
HIMACHAL
REGIONAL BRIEFS
NATION
OPINIONS
LETTERS
BUSINESS
SPORTS
WORLD
Unregulated tourism destroying Sangla valley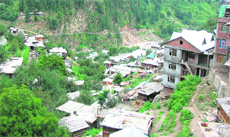 Shimla, May 26
Tourism, it is often said, destroys tourism. It seems to be coming true in the case of the Sangla valley in the tribal Kinnaur

Multi-storeyed concrete structures in the Sangla valley.
Hamirpur mechanic designs unique engine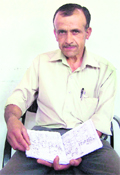 Hamirpur, May 26
A local mechanic claims to have designed a unique engine that runs on recycled fuel and needs no refilling after its initial filling. Madan Lal, a resident of Baldwara village of the district, who has been working to design the engine for the past 20 years, is now trying to get a patent for his design.

Madan Lal shows the design of the engine.
Power project spells doom for Nathpa, Kandar villagers
May 20, 2009
Dry spell damages apple, stone fruit crop
May 13, 2009
State to seek heritage status for Masrur temples
May 6, 2009
Unending ordeal of TGT teachers
April 29, 2009
Sonia, Mamata share dais after 8 yrs
April 22, 2009
Palampur's green cover under threat
April 15, 2009
Encroachments threaten Pong wetland
April 8, 2009
Palampur witnesses spurt in crime
April 1, 2009
Parents, teachers vow to make Tanda college ragging-free
March 25, 2009