PUNJAB
HARYANA
JAMMU & KASHMIR
HIMACHAL
REGIONAL BRIEFS
NATION
OPINIONS
LETTERS
BUSINESS
SPORTS
WORLD
Power project spells doom for Nathpa, Kandar villagers
Nathpa (Kinnaur), May 19
The 1,500 MW NJPC project, which today gives an income of Rs 15 crore daily to the Satluj Jal Vidyut Nigam Ltd (SJVNL), has spelt doom for 127 homeless tribal families of Nathpa and Kandar villages in the Bhawanagar subdivision in this district. Landslides and falling boulders from the blast-hit shaky hillsides threaten villagers, which have already killed three women - Padma Mani, a five-year-old girl and a newly wed woman - in the past two years, the villagers alleged.
High cement prices
High transportation costs blamed
Dharamsala, May 19
High cement prices in the state is a contentious issue. The price of a cement bag in the state ranges between Rs 267 and 270 per bag whereas, in neighbouring states like Punjab and Haryana, it is available between Rs 235 and Rs 250. The price of a cement bag at retail selling point in the state is about Rs 15 to Rs 30 costlier than the adjoining states.
Combining magic with learning
Shimla, May 19
Using magic as a tool for learning and education and equipping teachers with better skills to make studies more interesting and fascinating is his mission. He is H.G. Ley, an inspirational speaker and qualified Master Practitioner of Neurolinguistic Programming from the National Federation of Neurolinguistic Psychology, Florida, USA, who is holding learning workshops in various schools in the town.
Cherry crop
Low on volume, high on value
Shimla, May 19
While a good crop does not always bring remunerative returns to fruit growers, a poor outturn invariably fetches good price for the produce. This has been proved true even for cherry that usually brings high returns due to relatively small scale of production.
Two girls buy cherry in Shimla. Tribune photo: Amit Sharma
No smoking please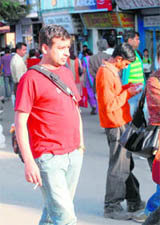 Instead of realising that smoking is banned all over India, a man smokes openly near the Scandal Point in Shimla. Tribune photo:
Amit Sharma

Dry spell damages apple, stone fruit crop
May 13, 2009
State to seek heritage status for Masrur temples
May 6, 2009
Unending ordeal of TGT teachers
April 29, 2009
Sonia, Mamata share dais after 8 yrs
April 22, 2009
Palampur's green cover under threat
April 15, 2009
Encroachments threaten Pong wetland
April 8, 2009
Palampur witnesses spurt in crime
April 1, 2009
Parents, teachers vow to make Tanda college ragging-free
March 25, 2009
District Red Cross societies come under a cloud
March 18, 2009
Where traffic jams are order of the day
March 11, 2009
HPMC in bad shape
March 4, 2009
BJP, Cong intensify campaign
February 25, 2009