Wastage of public funds in Bhagsunag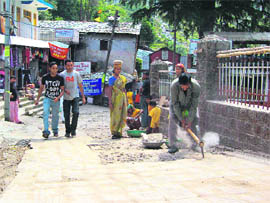 Dharamsala, July 7
Development funds received under various schemes are being wasted here. These days, the district administration has started development works around the Bhagsunag temple area.
Labourers break cemented tiles near Bhagsunag Temple.

Recurring dry spells
Farmers switch over to fodder crops
Shimla, July 7
With recurring dry spells severely affecting the productivity of major crops, farmers in the hill state have been forced to switch over to fodder cultivation.
Entrepreneurs wary of investing in state
Shimla, July 7
Will the efforts of the government to attract investment in the tourism and other sectors bring about results when the manner in which the Himalayan Ski Village (HSV) project has been dealt with has left entrepreneurs apprehensive about investing in the hill state?