All villages to be electrified this year
Srinagar, August 24
As many as 1000 micro Hydel electric projects are being executed by the Army under Border Area Development Programme and Operation Sadbhavana at a cost of Rs 10 crore.
Governor inspects Qazigund rly station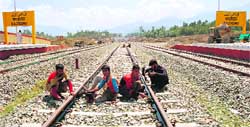 Srinagar, August 24
The Commissioner of Railway Safety has given clearance for operating DMU on the 19-km Qazigund-Anantnag stretch of the Qazigund-Srinagar-Baramulla rail link project that would complete the entire 119-km-long railway line within the valley.
Workers giving the final touches to the Qazigund rail track scheduled to become functional soon. Photo: Amin War
Swine Flu
Testing labs to come up at Jammu, Srinagar
Jammu, August 24
Though swine flu has not assumed alarming proportion in the state, the government has decided to set up two testing laboratories in Jammu and Srinagar.
Panthers Party MLA takes exception to CM's absence
Srinagar, August 24
Former minister and Panthers Party member Harsh Dev Singh expressed concern over the "continued absence" of Chief Minister Omar Abdullah from the Assembly here today.
VHP demands judicial probe
Jammu, August 24
The VHP today demanded a judicial probe into the theft of centuries-old idol of "Bal Asht Dashbuja" from the Mahakali temple at the historic Parna Mandir in the Chingam area of Chatroo in Kishtwar district.
Declare Samba drought-hit, say farmers
Samba, August 24
Even as Agriculture Minister Ghulam Hassan Mir has accepted that the farm sector had suffered a loss of more than Rs 406 crore due to the failed monsoon, farmers of Samba district have urged the government to declare the region as drought-hit.
Jammu varsity teachers launch strike
Jammu, August 24
The Jammu University Teachers Association (JUTA) today started its week-long protest by wearing black badges during working hours to press the demand for implementation of the UGC Sixth Pay Commission Report in toto and release of the arrears immediately.
e-learning centre for visually impaired sought
Jammu, August 24
Suraj Singh, a visually impaired postgraduate student at the University of Jammu, today held a demonstration in front of the university library. He is on fast to make the authorities concerned set up an e-learning educational centre for the visually impaired students of the university and its affiliated colleges.
63,000 tonnes additional foodgrains for Ramzan
Srinagar, August 24
The state is receiving foodgrains from the Centre under the Targeted Public Distribution System (TPDS) on the basis of national norms, taking the population in 2000 as uniform basis for allocation.
Army uses special tactics to kill holed-up militants
Sarol (Rajouri) August 24
As terrorists' operative in the state use residential areas as hideouts to carry out their nefarious activities, the Army conducts the cordon and search operations (CASO) to eliminate or arrest hiding terrorists.
Man kills brother over land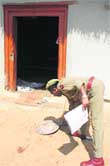 Jammu, August 24
A man shot dead his brother, while two others, including the son-in-law of the victim, were injured in a clash allegedly over a piece of disputed land in the Chowadi area of Sainik Colony this morning. Official sources said panic gripped residents of the Chowadi area around 8.30 am today after Bashir Ahmed and his sons Majid, Javed and Parvez shot 55-year-old Shamas Din, son of Qutab Din, in the chest with a 12 bore gun following a verbal duel.


A police officer inspects the crime spot in the Chawadi area of Sainik Colony in Jammu on Monday. Tribune photo: Anand Sharma
2 jawans held with fake currency
Poonch, August 24
The Poonch police has registered a case against two Army jawans for possessing fake currency after the Army authorities of 27 RR recovered fake currency amounting to Rs 1,70, 000 from the two soldiers of the Territorial Army.
4 killed in mishap
Jammu, August 24
Four students of higher secondary school, Kahra, were killed and 22 others injured, 10 of them critically, when a minibus (JK06-1588) fell into a gorge in Doda district this afternoon
Six CRPF jawans hurt
Srinagar, August 24
At least six CRPF personnel were injured when suspected militants lobbed a grenade on a hotel in the Dalgate area of the city. The militants hurled the grenade on hotel Kahkeshan at Dalgate, a famous tourist hub, injuring the six CRPF personnel, who were inside the building.
Boy dies of snakebite
Jammu, August 24
A minor boy died of snakebite in Arnia village, near here, today.