On 9/11, US renews pledge to eliminate Taliban
Ashish Kumar Sen writes from Washington
Eight years ago 19 young men flew hijacked commercial airplanes into the World Trade Center in New York City, the Pentagon on the outskirts of Washington and a field in Pennsylvania.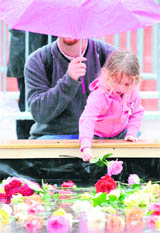 Family members of 9/11 attack victms pay their respects at the Ground Zero on Friday. — AFP
The terrorist attacks that left more than 3,000 people dead marked the beginning of America's "war on terror". On Thursday, the eve of the anniversary of those attacks, the Director of the Central Intelligence Agency said the agency had inflicted major losses on "a dangerous enemy".
In a message to CIA employees, Leon E. Panetta said places that Al-Qaida once counted as safe havens have become less safe. "People on whom Al-Qaida once relied, "planners, commanders, facilitators, and trainers," have been taken off the battlefield," he said. The Director's comments come even as Al-Qaida leader Osama bin Laden, his Egyptian second-in-command Ayman al-Zawahiri and Taliban leader Mullah Omar continue to elude the might of the US.
The Taliban, however, suffered a major setback in Pakistan last month when its leader Baitullah Mehsud was killed in a US air strike. US officials credit ground intelligence with providing solid information that led to Mehsud's death. However, intelligence officials are also quick to point out that Pakistani intelligence has only served to eliminate threats to the Pakistani state and done little to diminish the terrorist threat in Afghanistan, where President Barack Obama has committed thousands more US troops.
Pakistani officials including, most recently, former President Pervez Musharraf, have implored Washington to hand over command and control of the unmanned Predator drones that are used to take out terrorist suspects. US officials are hesitant to do so fearing these will be misused. In an interview with Fox News this week, Musharraf acknowledged that the drones, which have often resulted in civilian casualties prompting a backlash from the local population, "should be given to Pakistan because the sensitivity is American troops or any foreign troops coming into Pakistan".
Noting that the CIA had no higher priority than fighting Al-Qaida and its violent sympathisers, Panetta said the information the CIA gathers and the actions it takes are not enough to defeat terrorists determined to strike again. "Al-Qaida's own vicious ideology, founded on the murder of innocent people, has proven to be a major weakness," he said.