Avoid taking excessive risks, pvt sector told
New Delhi, September 19
Warning the private sector against "reckless behaviour and excessive risks", President Pratibha Patil today asked the delegates attending a conference on global trade law to help put in place a better regulatory and surveillance mechanism for the economy that would prevent meltdowns and promote an equitable world.
President Pratibha Patil addresses delegates during a conference on global trade law in New Delhi. — PTI

Global Trade Law Meet

India inches closer to diarrhoea vaccine
New Delhi, September 19
With clinical trials of the indigenous Rotavirus (RV) vaccine reaching advanced stages in India, the government yesterday hinted at its willingness to introduce the tested vaccine into its immunisation programme.
Enough material to book K'taka CJ: Lawyers
Chennai, September 19
The convenor of the forum on judicial accountability, R Vaigai, has claimed that the forum members had visited Kaverirajapuram village --- where Karnataka Chief Justice PD Dinakaran had allegedly encroached several acres of government land --- and verified the "classification of revenue records."


Remembering The Hero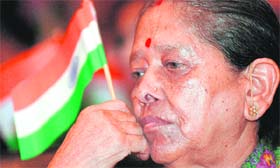 Devendri Sharma, mother of Delhi police inspector Mohan Chand Sharma, who died fighting terrorists in the Jamia Nagar locality encounter in 2008, during the AIATF's Martyrs' Day function in New Delhi on Saturday. Tribune photo: Mukesh Aggarwal
KCP-MC claims it planted car bomb
Imphal, September 19
Militant outfit Kangleipak Communist Party - Military Council (KCP-MC) today claimed responsibility for planting the car bomb at Raj Bhavan here. In a statement issued by the outfit, its self-styled military affairs secretary Lanheiba Meitei said the car bomb was planted yesterday by its 5th unit special demo team.
TN advocates divided over issue
Chennai, September 19
The issue of allegations against Karnataka Chief Justice PD Dinakaran has divided the lawyers of the Madras High Court, with more than 260 of them led by advocate A Mohan Doss appealing to the Constitutional authorities not to yield to "pressure tactics" of a few lawyers with "vested interests".
CVC comes under fire
New Delhi, September 19
Close on the heels of the revival of the demand for a change in the Collegium system of appointment of judges in the higher judiciary, the Central Vigilance Commission (CVC) has come under fire for its members' inability to "outgrow their bureaucratic servility to their political masters."


UNIFORM JOY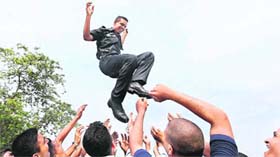 Cadets in a jubilant mood during their passing-out parade at Officers Training Academy in Chennai on Saturday. — PTI
Austerity steps
Maya: It's 'nai natakbaazi'
Lucknow, September 19
The austerity measures of the UPA-led Central government was described as "nai natakbaazi" by BSP chief and UP Chief Minister Mayawati at a public meeting yesterday.
Counselling for MBBS quota seats from Sept 23
New Delhi, September 19
The government today decided to hold the extended second round of counselling for MBBS/BDS seats under the 15 per cent quota from September 23 to 27 at CHEB Building, Kotla Road, opposite Mata Sundari College for Women, New Delhi Centre.
Advisory to states on women's safety
New Delhi, September 19
The Union Home Ministry (MHA) has asked the states to vigorously enforce laws to ensure safety of women. In its advisory, the ministry has stressed the state governments to take special steps to curb honour killings to prevent forced marriage in some northern states.
Kalavati to contest poll
Mumbai, September 19
Rahul Gandhi may have brought to national focus the plight of Kalavati, the widow of a debt-ridden farmer in Maharashtra's drought-hit Vidarbha region but she will take on the Congress in Maharashtra Assembly polls next month.
Gehlot meets Sonia
New Delhi, September 19
Rajasthan Chief Minister Ashok Gehlot today sought to distance himself from his earlier demand for resignation of the Minister of State for External Affairs Shashi Tharoor over his "cattle class" remarks.