PUNJAB
HARYANA
JAMMU & KASHMIR
HIMACHAL
REGIONAL BRIEFS
NATION
OPINIONS
LETTERS
BUSINESS
SPORTS
WORLD
Friday, September 25, 2009, Chandigarh, India
Updated at 3:00 am (IST)

Sign NPT, UNSC tells states
United Nations, September 24
The UN Security Council today unanimously adopted a resolution asking all non-NPT states to join the treaty at a summit chaired by President Barack Obama. The 15-member council, while urging "other states" outside the NPT to join the controversial treaty as "non-nuclear states" to help rid the world of atom bombs, also urged all countries to sign and ratify the Comprehensive Test Ban Treaty (CTBT) and refrain from conducting atomic tests.


Will not: India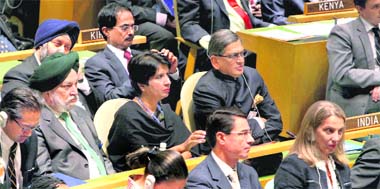 BRAINSTORMING SESSION: External Affairs Minister SM Krishna and Foreign Secretary Nirupama Rao along with India's permanent envoy to United Nations Hardeep Puri at the UN General Assembly Hall in New York. — PTI
CAST YOUR VOTE
Do you think that Ministers serious about adopting austerity measures?


EDUCATION
JOBS & CAREERS
HEALTH & FITNESS
SCIENCE & TECHNOLOGY
REAL ESTATE
SPORTS
Chandrayaan's big find: Water on moon
Bangalore, September 24
India's maiden lunar mission, Chandrayaan-1, has found evidence of large quantities of water on the surface of the moon, a top American scientist confirmed today. "The moon has distinct signatures of water.

Pokhran tests were successful: Kakodkar
Mumbai, September 24
The nuclear tests conducted at Pokhran in 1998 were successful and all the intended objectives were achieved, Atomic Energy Commission chairman Anil Kakodkar said here today.
Historic 'breakthrough' in AIDS vaccine
Bangkok, September 24
Thai health authorities today announced the first "effective" trial of an HIV/AIDS vaccine on some 16,000 volunteers, although the efficacy rate was not sufficient for use.
NDA 60 Glorious Years
1857 The First Challenge
E - Revolution 2005:
A Two-day IT conclave
Assembly Elections - 2005
Turbans
Chandigarh is 50
125 Years of The Tribune
India: The Tasks Ahead
India at Sixty
A Tribune Supplement
EARLIER FEATURES
On Sundays
On Saturdays
Saeed should be tried for 26/11: Krishna


Even as a State Department spokesman applauded Pakistan's determination to eliminate militants, External Affairs Minister S.M. Krishna said India "cannot be lulled into some kind of satisfaction" that Pakistan is proceeding against them. Krishna's comments came in an interview with the Wall Street Journal on the sidelines of the United Nations General Assembly session in New York this week.


13 Indian firms make it to Forbes Asia list
Kuala Lumpur, September 24
As many as 13 Indian companies, including Reliance Industries, Infosys Technologies and Tata Steel, have made it to the list of Forbes' 50 best-listed companies in the Asia-Pacific region. "Our list is a mix of giant, established companies — this year that list includes Australian miner BHP Billiton, Hong Kong conglomerate Noble Group and Indian oil and gas heavyweight Reliance Industries — and smaller outfits such as Agile property Holdings, Anhui Conch Cement and digital China Holdings," Forbes Asia said.
IAF strength no match to China's: Air chief
September 24, 2009

Act fast against Saeed, Krishna tells Pak
September 23, 2009

JuD chief put under house arrest, again
September 22, 2009
Our nukes in place: NSA
September 21, 2009
No real threat, leaders in touch: Govt
September 20, 2009
BSF, Pak Rangers hold flag meeting
September 19, 2009
Nitish stunned in Bihar
September 18, 2009
US rings nuke alarm bells
September 17, 2009
PM: Maoist menace gravest threat
September 16, 2009
DGPs draw PC flak
September 15, 2009