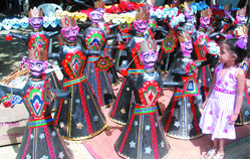 A girl looks at Ravana idols at Blind School, Lodhi Road in New Delhi on Thursday. Tribune photo: Manas Ranjan Bhui
Walia seeks more time for report on illegal colonies
New Delhi, September 24
Delhi urban development and finance minister Dr A.K. Walia today submitted a proposal before Lieutenant Governor Tejendra Khanna saying that the government should be given one and a half years more to submit the report on unauthorised colonies.
Power shortage hits GNIDA units
Greater Noida, September 24
The state government and Greater Noida authority are keen that more investment in the form of industrial units should come to the area. Many incentives are being provided to attract investment. However, power shortage in the area has hindered their efforts.
GNIDA to acquire land having illegal constructions
Greater Noida, September 24
A large number of illegal constructions have come up on agricultural lands in this town adjoining the national Capital, states the satellite survey carried out by the Greater Noida Authority (GNIDA) from April to June.
JNU students hold protest at UGC office
New Delhi, September 24
With yet another day of total strike at Jawaharlal Nehru University (JNU), students took their demand for better health facilities outside the university campus.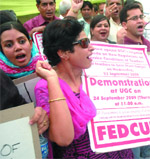 DU teachers protest UGC
New Delhi, September 24
Teachers from Delhi University under the banner of FEDCUTA held a massive demonstration outside UGC office today. They were protesting against UGC's "negative and uncooperative attitude" in framing regulations on service conditions of university and college teachers.


Teachers protest against the UGC's stand on new regulations on service conditions for teachers in New Delhi on Thursday. Tribune photo: Mukesh Aggarwal
Make all govt schools coed, says dy speaker
New Delhi, September 24
Deputy speaker, Delhi Assembly, Amrish Gautam, today suggested that all the government schools should be made coeducational. In such schools, boys and girls understand each other and eve-teasing incidents are rarely reported.
Swine flu: Gzb DPS shuts senior wing too
Ghaziabad, September 24
Delhi Public School (DPS) at Indirapuram in Ghaziabad today announced the closure of its senior wing after two more students were reported to be infected with the swine-flu virus.
113 fresh flu cases
New Delhi, September 24
The upsurge of H1N1 influenza A continues, with 113 more people, including 65 children being declared infected today. The tally now climbs up to 2275.
Bringing Salem on each hearing unsafe: Counsel
Bringing underworld don Abu Salem to the national Capital on each date of hearing is not safe, said his counsel Rajiv Mohan at the Tis Hazari district court here today.
Neighbour rapes minor
New Delhi, September 24
A 9-year-old girl was raped by her neighbour last evening in the Nangloi area of west Delhi.
Man held for kidnapping business partner's son
New Delhi, September 24
A 41-year-old man of Nepali origin has been arrested here for kidnapping an 18-month-old son of his business partner and demanding a ransom of Rs 1 lakh, police said today. The child has been rescued.
Woman dies in hospital, parents allege dowry
New Delhi, September 24
Parents of a 22-year-old woman who died in a private hospital yesterday have alleged their daughter was killed by her in-laws for dowry.