PUNJAB
HARYANA
JAMMU & KASHMIR
HIMACHAL
REGIONAL BRIEFS
NATION
OPINIONS
LETTERS
BUSINESS
SPORTS
WORLD
Thursday, October 1, 2009, Chandigarh, India
Updated at 3:00 am (IST)

AI stir off, but wait for flights to get normal
New Delhi, September 30
An assurance by Union Civil Aviation Minister Praful Patel to agitating Air India executive pilots that there would be no cut in their incentives, it appears, struck right on target as the protesters called off their five days old stir today morning.
Don't expect India to sign NPT in present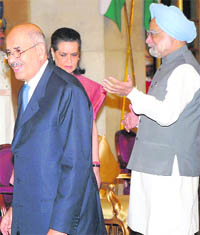 form: IAEA chief
New Delhi, September 30
India today found an unexpected supporter from Mohammed ElBaradei chief of International Atomic Energy Agency (IAEA) in its opposition to the nuclear non-proliferation treaty (NPT).


Editorial: A world without N-arms

IAEA Director-General Mohamed ElBaradei with Prime Minister Manmohan Singh and AICC President and UPA chiarperson Sonia Gandhi after receiving the Indira Gandhi National Award for Peace from President Pratibha Patil at Rashtrapati Bhawan in New Delhi on Wednesday. Tribune photo: Mukesh Aggarwal

CAST YOUR VOTE
Should capitation fee be abolished?

EDUCATION
JOBS & CAREERS
HEALTH & FITNESS
SCIENCE & TECHNOLOGY
REAL ESTATE
SPORTS
Ex-Pak army men, ISI 'trained' 26/11 attackers
Former members of Pakistan's military and the Inter-Services Intelligence agency trained the gunmen who attacked Mumbai in November, a senior member of the militant group Lashkar-e-Toiba has told a US newspaper.
31 drown as tourist boat sinks in Kerala
Thekkady (Kerala), September 30
In the worst tourism tragedy in Kerala, 31 persons died after a state-run double-deck boat carrying 74 tourists suddenly capsized today in the famous Thekkady Lake in Periyar Wildlife Sanctuary in Idukki district.
NDA 60 Glorious Years
1857 The First Challenge
E - Revolution 2005:
A Two-day IT conclave
Assembly Elections - 2005
Turbans
Chandigarh is 50
125 Years of The Tribune
India: The Tasks Ahead
India at Sixty
A Tribune Supplement
EARLIER FEATURES
On Sundays
On Saturdays
Sensex climbs Mt 17K
Mumbai, September 30
Reports of higher advance tax paid by companies ahead of second quarter results and rising global liquidity pushed the Sensex above 17,000 levels for the first time since May 21, 2008. The benchmark index closed 273 points higher at 17,126. In the broader markets, the Nifty closed 77 points higher at 5,083.
Tsunami smashes Pacific islands
Sydney, September 30
A series of tsunamis smashed into the Pacific island nations of American and Western Samoa killing possibly more than 120 people, some washed out to sea, destroying villages and injuring hundreds, officials said on today.
'Cancer train' a lifeline for stricken patients
Bathinda/Bikaner, September 30
There was little hope of survival for 17-year old Sukhjit Singh, a resident of Ramuwala Kalan village in Moga district who was diagnosed with blood cancer earlier this year. However, as soon as his parents came to know about a cancer hospital located in Bikaner the three boarded the Abohar-Jodhpur passenger train at Bathinda on the night of May 12 this year and reached the desert town in Rajasthan the next morning.


Affordable treatment
No new shrines on public land: SC
September 30, 2009
Talks fail, govt steps in to resolve AI crisis
September 29, 2009
Manmohan returns with major gains
September 28, 2009
Shun terror as state policy, PM tells Pak
September 27, 2009
US aid to Pak comes with 'accountability' rider
September 26, 2009
Sign NPT, UNSC tells states
September 25, 2009
IAF strength no match to China's: Air chief
September 24, 2009
Act fast against Saeed, Krishna tells Pak
September 23, 2009
JuD chief put under house arrest, again
September 22, 2009
Our nukes in place: NSA
September 21, 2009