Adampur set for triangular contest
Bhajan Lal clan banking on loyalists
Raman Mohan
Tribune News Service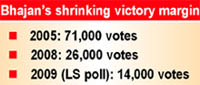 Hisar, October 6
The Bhajan Lal clan which has represented the prestigious Adampur assembly segment for over four decades is trying to retain the seat for the 11th time in a row.
It has fielded the former Chief Minister's younger son, Kuldeep Bishnoi, as the HJC nominee.
Thus far, the Bhajan Lal clan has had complete confidence of the voters making this, perhaps, the only constituency in Haryana which has not elected anyone from outside the Bishnoi family ever since the state came into being in 1966.
This time there are 10 contestants in the fray. The Congress has fielded former Lok Sabha member from Hisar Jai Parkash against Bishnoi. In the byelection last year, the Congress had fielded Devi Lal's son Ranjit Singh against Bhajan Lal.
The INLD has put up Rajesh Godara, a liquor baron closely related to the Chautalas. He has contested from here earlier too. However, in the 2008 byelection, the party had chosen Sampat Singh, a former finance minister, who has since crossed over to the Congress.
The BJP has fielded Pawan Kumar while the BSP has chosen Rajesh Kumar. However, their presence in the contest is inconsequential. The fight is between Bishnoi, Jai Parkash and Rajesh Godara.
Since 2005, the Bishnoi clan's margin of victory has been going down steadily. That year Bhajan Lal won this seat by a record margin of 71,000 votes. In the 2008 election, his margin came down to 26,000 votes. In the recent Lok Sabha poll he won from this segment by a mere 14,000 votes.
Despite this, the Bishnoi camp is confident of pulling of a respectable victory. Yet, the Bishnois are not taking chances. The father-son duo is campaigning hard.
The constituency has seen changes in its geographical profile after the recent delimitation exercise. Some villages have gone to the neighbouring Nalwa constituency from where Bishnoi's mother Jasma Devi is the party nominee. However, that makes no major change in its political profile.
The Congress has made inroads into this segment since 2005. Chief Minister Bhupinder Singh Hooda has visited the constituency several times since he assumed office.
The INLD too is campaigning hard making things a bit difficult for the Bishnois. Its nominee Rajesh Godara is well-known in the area.
The constituency has always been sensitive from polling angle. The authorities have made special security arrangements to ensure a peaceful poll.
In Barwala all parties have chosen greenhorns- Ram Niwas Ghorela (Cong), Subhash Tak (HJC), Sheela Bhayan(INLD) and Jitendra Jog(BJP).
The constituency's caste profile has changed. Earlier, it was a Jat-dominated constituency, now non-Jats are in a majority.
In the newly constituted Uklana (SC) constituency, INLD's Seema Gaibipur is pitted against Rajbala of the HJC, Naresh Selwal of the Congress, Sandeep of the BSP and Nar Singh Das of the BJP.