Cabinet clears industrial policy
Thumbs down from industrialists
Ludhiana, October 6
The much-awaited new industrial policy finally got cleared by the state Cabinet today.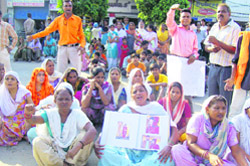 Family members of a youth who committed sucide stage dharna outside the Atam Nagar police post. Photo: Inderjeet Verma
Talk on cancer treatment
Ludhiana, October 6
Cancer specialist and executive chairman of the Cancer Council of India (CCI), Dr Devinder Singh Sandhu, today delivered a lecture on cancer in association with State Institute of Rural Development in Ludhiana.
81 units of blood donated
Jagraon, October 6
The National Consumer Awareness Group (NCAG), Jagraon, organised its 6th blood donation camp at Red Cross Hospital here on Sunday.
Wildlife Week
CAPE India holds quiz
Ludhiana, October 6
Care of Animals and Protection of Environment-India (CAPE), a non-government organisation, today organised a wildlife quiz contest at Government High School, Salem Tabri, to mark Wildlife Week.
Two cops suspended
Ludhiana, October 6
City SSP SS Gill suspended two cops for dereliction of duty. The suspended police officials have been identified as ASI Rajwant Singh, in charge of the Atam park police post, and sub-inspector Harbhajan Singh, additional SHO of the Sarabha Nagar police station.
Mulazam Dal threatens stir
Ludhiana, October 6
The Punjab State Mulazam Dal has served an ultimatum to the Punjab government to accept and implement pending demands of government employees within one month failing which it will be left with no other choice than to launch an agitation to seek justice.
Pensioners seek release of DA
Ludhiana, October 6
The Pensioners Information Centre Management Committee has asked the state government to release the installment of 5 per cent dearness allowance, raising it from 22 to 27 per cent of the revised basic pension with effect from July 1, 2009, without delay prior to Diwali.
From Schools & Colleges
Palak excels in story-telling contest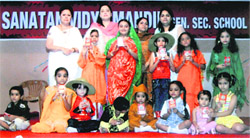 Ludhiana, October 6
Sanatan Vidya Mandir Senior Secondary School, Civil Lines, organised a story- telling competition for primary wing students today. The event started with an illumination of ceremonial lamp by chief guest, Sonia Khurana.
Students of Sanatan Vidya Mandir Senior Secondary School, Civil Lines, take part in a story-telling contest in Ludhiana on Tuesday. A Tribune photograph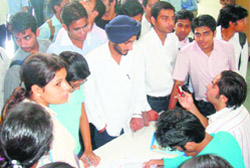 Recruitment drive at RIMT
Mandi Gobindgarh, October 6
Engineering students appeared today for campus recruitment of Panchkula-based Greyb Services at RIMT Engineering Institutes, Mandi Gobindgarh.



Students collect hall tickets to appear for a recruitment drive at RIMT in Mandi Gobindgarh on Tuesday. Photo: Bhushan Sood
MBA students visit industry
Doraha, October 6
MBA students of Doraha Institute of Management and Technology, Doraha, visited Malwa Industries, Macchiwara, under the guidance of their teachers VJ Rai and Amanpreet Singh today.
Lyricist Hassanpuri at DMCH
Ludhiana, October 6
The Punjabi Sahit Akademy today called upon the state government to bear the medical expense incurred on the treatment of Inderjeet Hassanpuri. The legendary lyricist is ailing and is undergoing treatment at Dayanad Medical College and Hospital (DMCH).
Nasal spray launched
LUDHIANA: Novartis India Limited- OTC business unit, part of Novartis' operations in India, launched Otrivin in a nasal spray format. Otrivin will now be available as a topical nasal decongestant in an easy-to-use format in India. Otrivin nasal spray will be available over-the-counter (OTC) at chemist stores and is priced at Rs 44 for a 10 ml unit. Otrivin in a nasal spray format is positioned to be part of the cough/cold and allergies segment, an estimated Rs 1,550 crore market in India. — TNS


In-laws 'poison' woman
Jagraon, October 6 }
A woman, who was married five years ago, was reportedly poisoned by her husband and in-laws last night. Suresh Kumar Jain of Humbran village had stated to the police that he married his daughter Sweety Jain with Sohan Lal of Bassian and the couple had two sons, a 4-year-old and a 10-month-old.
2 booked for occupying relative's house
Mullanpur Dakha, October 6
The police has booked a woman, and her son, for occupying a house of her brother-in-law. Kuldeep Kaur and her son Iqbal Singh were said to have occupied the house of Satpal Singh, an NRI living in Australia, at Dakha village.
2 J&K cops in net for drug peddling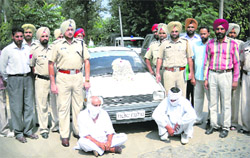 Mandi Ahmedgarh, October 6
Four members of two inter-state gangs of drug peddlers, including two cops of the Jammu and Kashmir Police, were nabbed during nakas held at various places in the area last night.




Chess tournament in progress at Green Land School, Ludhiana


Keen tussle marks CBSE North Zone Chess tourney
Ludhiana, October 6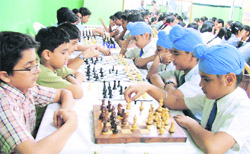 Keen tussles were witnessed in the CBSE North Zone II Chess Championship being held at Green Land Senior Secondary Public School near Jalandhar Bypass here today. Students drawn from various schools from the North India and affiliated with the CBSE, New Delhi, are taking part in this championship.

Chess tournament in progress at Green Land School, Ludhiana on Tuesday. Photo: Inderjeet Verma
KVM lads in semis
Ludhiana, October 6
Kundan Vidya Mandir, Civil Lines Ludhiana, defeated YPS, Mohali, by five wickets to secure a berth in the semifinal of the 9th All-India Bhai Gobind Singh Pasricha Cricket Tournament being held at MGM Public School, Model Town, Jalandhar, today.