Sunday, November 1, 2009, Chandigarh, India
Updated at 3:00 am (IST)

IOC blaze leaves ghost towns
Bodies of three employees found; toll 8
Jaipur, October 31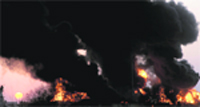 Deserted streets, broken houses and fear writ large over their faces — this is the picture of about a dozen villages situated near the IOC depot, which has been caught in a major blaze since Thursday. And about a dozen villages on the Tonk Road, including Sitapura, Jirota, Sukhpuria, Tilawala, Kundanpura, Murlipura and Ramchandrapura, have virtually turned into "ghost towns".
Thanks to Guv-MP slugfest, IT majors avoid Chandigarh
Chandigarh, October 31
The IT sector in Chandigarh managed to survive the impact of the global recession, but growth in this sector has been stalled thanks to the Chandigarh Land Controversy. With allegations flying thick and fast over the allotment of land to IT companies in the Rajiv Gandhi Chandigarh Technology Park (RGCTP), no new IT major is willing to invest in Chandigarh.