20 lakh take holy dip on Karthik Poornima
Sandeep Rawat
Tribune News Service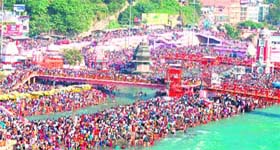 A panoramic view of Har-ki-Pauri on Karthik Poornima. Tribune photo: Rameshwar Gaud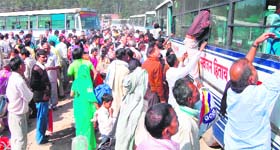 Passengers jostle for seats in a bus in Haridwar on Monday. Tribune photo: Rameshwar Gaud
Haridwar, November 2
On the pious occasion of Karthik Poornima, lakhs of people thronged the holy city of Haridwar to take a dip in the Ganga. Such was the massive inflow in the city that till late evening people were seen taking dip, specially at Har-ki-Pauri and its adjacent ghats.
As per religious beliefs, in the month of Karthik, women observe fast and take a holy dip in the Ganga on the last day of Kartika, which is Karthik Poornima. This bath is also observed by women during the dark before the dusk. Since midnight, ghats at Har-ki-Pauri had been flooded with people taking the auspicious bath.
And by morning itself, lakhs had already taken the holy dip in the Ganga. The normal auspicious time for the holy bath was from 8:40 am to 12:40 and this time the whole Har-ki-Pauri and nearby areas were jam-packed, presenting a Kumbh-like atmosphere.
With Maha Kumbh preparations and works going on, massive traffic jams were seen in the city. Such was the scenario that national highways and interior roads connecting Har-ki-Pauri were full of vehicles and people and traffic was moving at a snail's pace. The problem got aggravated with the parking lots getting filled up within hours. Vehicles had to be either diverted or stopped at certain points to avoid jams. People commuting through public transport suffered the most. The bus station was full of passengers in the absence of adequate numbers of buses to ferry pilgrims. Trains, too, came jam-packed and there was quite a chaos at railway station.
People were found running here and there for catching buses to their respective destinations. Many opted to board buses from other places outside the city.
In view of the auspicious bath of Karthik Poornima, elaborate security arrangements had been put in place in city.
As the auspicious occasion coincided with Guru Nanak Jayanti, a heavy rush in the city was expected. Approximately 20 lakh people visited Haridwar to take a dip in the holy Ganga.
The whole mela area was divided into eight zones comprising 32 sectors. In each zone, a heavy deployment of police personnel was made apart from the policemen clad in civil clothes.
District Magistrate R Meenakshi Sundram, Senior Superintendent of Police (Haridwar) Sanjay Gunjiyal, SP Asim Srivastava, City Magistrate Archana Grehawar and other administrative officials had monitored the mela proceedings since early morning.
Additional police force had been sought from the various districts of Garhwal division to controlling crowd and traffic.
Old timers and senior citizens recall that earlier on such occasions there was not much crowd and traffic. If on such monthly baths this is the condition, then the Maha Kumbh will be a stiffer challenge.