Streetchildren perform acrobatics on the occasion of Children's Day in New Delhi
on Saturday. Tribune photo: Mukesh Aggarwal


Actors Kareena Kapoor and Saif Ali Khan promote their forthcoming film 'Kurbaan' at Ambience Mall in Gurgaon on Saturday. Tribune photo: Sayeed Ahmed
Common man struggles to survive in costly city
New Delhi, November 14
"Delhi has become an elite city where only the rich and strong can live. Poor people like me have no place here. I have decided to go back to my village Pilibheet, leaving the mad city behind for ever," said Maya, a maid.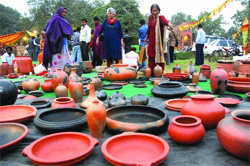 Dastkar bazaar charms all
New Delhi, November 14
Flavours at the Dastakar 'Nature Bazaar' continue to tempt visitors even at a new location— Indira Gandhi National Centre of Arts (IGNCA). Till last year, Delhi Haat had been hosting the annual fair.


Handicrafts on display during the Dastakar 'Natural Bazaar' in New Delh. Tribune photo: Manas Ranjan Bhui
Jashnebachpan performs grand final play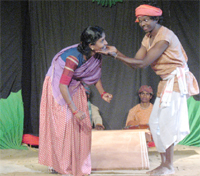 New Delhi, November 14
It was no child's play even as kids performed like veterans on stage. The ninth edition of Jashnebachpan, the annual national theatre festival for children, organised by Sanskaar Rang Toli (SRT) of National School of Drama (NSD), today performed its last play 'Brahm Rakshas Ka Nai'.




A touching scene of the play in New Delhi. Tribune photo
Dismissed cop held for robbery
New Delhi, November 14
With the arrest of four persons, including a dismissed Tihar Jail constable, the south Delhi police has claimed to have solved 15 cases of abduction, kidnapping, robbery, snatching and Arms Act.
Missing girl found dead
New Delhi, November 14
A 14-year-old girl, who went missing yesterday night, was found dead at a secluded plot in the Kanjhwala area of outer Delhi this morning. 
Spurious ghee unit razed
Ghaziabad, November 14
A factory manufacturing pure dhesi ghee from animal fat was razed by angry villagers in Hapur on Friday. Hundreds of farmers from five villages reached the site and destroyed the factory.
Rs 5 lakh withdrawn from woman's account
Gt Noida, November 14
A woman here alleged that Rs 5 lakh had been illegally withdrawn from the Dankore branch her State Bank of India account. She has alleged the involvement of bank staff in it.
Man mowed down by truck
New Delhi, November 14
A 22-year-old boy was killed in an accident when a truck hit him in the Uttam Nagar area of west Delhi last evening.
Man rapes tenant
New Delhi, November 14
A 44-year-old landlord was arrested for allegedly raping his 30-year-old tenant in the Begampur area of outer district last night.
Annual day
New Delhi, November 14
Hamdard Public School, Talimabad, Sangam Vihar, run by Hamdard Education Society today celebrated its annual day.
Gurgaon to host mass marriage today
Gurgaon, November 14
The youth of Jangid Brahman Samaj would get the opportunity to choose their life-partners at a sammelan and mass marriage function on Sunday. Besides, the marriage of poor girls would also be solemnised.
450 kids, Prez celebrate 'day'
New Delhi, November 14
It was a day out at Rashtrapati Bhavan today for 450 children from across the country.
Students to test spelling skills
New Delhi, November 14
Students in north India will have a chance to test their spelling mettle in the third annual Spelling Bee competition sponsored by the US embassy's American Center in New Delhi. 
'Healthy lifestyle can contain diabetes'
New Delhi, November 14
India being home to over 50 million diabetics, doctors and health NGOs call for lifestyle changes, which would prevent people from many other associated health risks like brain stroke, cardiac attack, etc.
34 fresh dengue cases
New Delhi, November 14
The menace of dengue continues in the city, with 34 more people diagnosed with the vector-borne disease today. The total number of cases has reached 783.
Fire at shoe factory
New Delhi, November 14
A fire broke out in a shoe factory in the Mangolpuri industrial area here today. It broke out at 11.30 am on the first floor of the factory located in T Block of Phase I of the area.