8 H1N1 deaths so far
No need to panic, says minister Bhukkal
Chandigarh, November 17
Eight persons have died due to swine flu in Haryana so far, state Health Minister Geeta Bhukkal said here today. While one person died in Gurgaon district on August 20, two died in Faridabad district on August 26 and September 11.
BSP's Khan may be Dy Speaker
The party has extended outside support to Hooda govt
Chandigarh, November 17
The lone BSP MLA in the Haryana Vidhan Sabha, Akram Khan, is tipped to be the Deputy Speaker of the House. The BSP has extended outside support to the Hooda government in the state. However, for this post Khan will have to wait till the next session of the assembly.
Monetary help for daughters of martyrs
Jind, November 17
The state government has announced a grant of Rs 51,000 for the marriage any martyr's daughter who had been rendered orphan. The government will also release Rs 21,000 for the marriage of a widow whose husband had been killed while serving the nation.
Angry commuters disrupt rail traffic
Sonepat, November 17
Rail traffic remained disrupted for more than two hours on the Delhi-Ambala section of the Northern Railway
3 killed in mishaps
Sirsa, November 17
Three persons died in separate road accidents in the district during the last 24 hours.
Chandimandir gets Baffle Range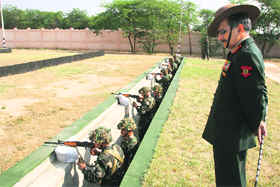 Chandigarh, November 17
A Baffle Range to train soldiers in use of small arms within a limited space has been set up at the Chandimandir military station. Rapid urbanisation and consequent restriction of availability of larger areas for training led to innovative thinking in designing such type of ranges.
Lieut-Gen TK Sapru, GOC-in-C, Western Command, inspects the Baffle Range inaugurated at Chandimandir on Tuesday. A Tribune photograph

Tehsildar suspended
Panipat, November 17
Following complaints of rampant corruption, Revenue Minister Shiv Charan Sharma has ordered suspension of the district tehsildar and naib tehsildar.
Man done to death by kin
Rewari, November 17
Sher Singh Yadav (42) was done to death allegedly by his nephew Dharambir Yadav and other members of his family, who were armed with lethal weapons, in Dhani Kolana village, 24 km from here, last night.
Three BKU activists released
Jind, November 17
Three activists of the Bharatiya Kisan Union (Nain faction), who were arrested by the police on November 3, were released from judicial custody today.