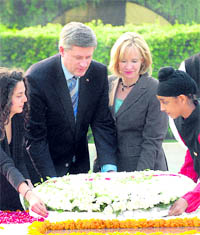 Canada's PM Stephen Harper and his wife Laureen place a wreath at the Mahatma Gandhi memorial at Rajghat, New Delhi, on Tuesday. Tribune photo: Mukesh Aggarwal
Two UP youth held for 'aiding' Pak spy
Lucknow, November 17
The Special Cell of Delhi police today picked up two local youths for reportedly helping alleged ISI agent Syed Amir Ali acquire a genuine passport in Lucknow on the basis of fake documents.
Mid-air Scuffle
NCW rules out molestation angle
New Delhi, November 17
Ruling out molestation of air hostess Komal Singh during a mid-air scuffle on board an Air India flight, the National Commission for Women (NCW) here today gave a clean chit to the co-pilot, Aditya Chopra, who was facing a probe.
Jaipur Foot steps into controversy
Jaipur, November 17
Jaipur Foot, which has benefited tens of thousands of amputees across the world, has courted a controversy at a time when it should have been basking in the glory of The Time magazine's recognition for Jaipur Knee as one of the top 50 inventions of 2009 in its latest edition.
Justice Thakur sworn in as SC judge
New Delhi, November 17
Justice TS Thakur, who was a Chief Justice of the Punjab and Haryana High Court, and three others were today sworn in as judges of the Supreme Court.
Jurists to honour Haryana CM
New Delhi, November 17
Ahead of the first anniversary of the 26/11 Mumbai strikes, President Pratibha Patil will inaugurate a two-day International Conference of Jurists on Terrorism here on November 21.
Andhra techie released
Guwahati, November 17
The 50-year-old abducted engineer, P Krishna Rao, from Andhra Pradesh was released by his abductors belonging to the anti-peace talks faction, NDFB, at Karigaon in western Assam's Kokrajhar district at around 9 am today.
Navy chief to review coastal security
New Delhi, November 17
India's sea-borne aircraft carrier INS Viraat has re-joined duties on the western sea front facing Pakistan. Navy chief Admiral Nirmal Verma will go onboard the Viraat as part of his visit to Mumbai to review the coastal security preparedness of the force.
Advani faction may be isolated further in BJP
Parliamentary party might be separated from main organisation
New Delhi, November 17
With the change in leadership, the Bharatiya Janata Party may also go in for some other modifications, main being separating the parliamentary party from the main organisation. Plans, it is learnt, were afoot to effect this alteration, probably following directions from the RSS.
Ex-Speaker joins K'taka cabinet
Bangalore, November 17
Karnataka Chief Minister BS Yeddyurappa today inducted former assembly speaker Jagadish Shettar into his 18-month-old ministry.
India continues to be 'highly corrupt' nation
New Delhi, November 17
India's public officials and politicians continue to be perceived as "highly corrupt" by global experts and business surveys, says the latest Corruption Perception Index (CPI) released by the Transparency International.
India can join IPI gas project, says Mottaki
New Delhi, November 17
Iran today said the "door was open" for India to join the ambitious Iran-Pakistan-India gas pipeline but indicated that it could not wait indefinitely and the structure of the project could change in the future.
IIMB ranked No. 1 business school in India
Bangalore, November 17
The Indian Institute of Management Bangalore (IIMB) has for the second consecutive year been recognized as the number one business school in India, according to the 2009 worldwide business school ranking carried out by Eduniversal, a unit of the French consulting firm SMBG.
India hands over 7th dossier to Pak
New Delhi: Days ahead of a meeting between the foreign ministers of the two countries in Trinidad on the margins of the CHOGM Summit, India handed over the seventh dossier to Pakistan containing additional evidence linking Pakistan-based terrorists to the 26/11 Mumbai attacks. The dossier was handed over by YK Sinha, Joint Secretary (Pakistan) in the External Affairs Ministry, to Pakistan's Deputy High Commissioner Riffat Masood, official sources said. — TNS