HMV brings home KHOJ-2009

Tribune News Service
Jalandhar, November 24
Students of Hans Raj Mahila Maha Vidyalaya bagged top positions in the 10th National Science Festival-KHOJ 2009 held at Navi Mumbai. Kirti, Navneet, Ashudeep and Shamsher got first prizes in a project exhibition. They were awarded a trophy and a prize of Rs 10,000 for their project "Chandrayaan". In elocution, Anupriya secured the first position and received a trophy and a of Rs 1,500, while Amrinder secured the second position and a prize of Rs 1,000. Manny, Rupali and Sangeeta got third prize and a trophy for their project "Hydroponics in space".
Gyan manthan at LPU
Lovely Professional University organised its annual tech fest Gyan Manthan 2009 in which students participated in scientific contests, technical demonstrations and presentations. The computer engineering section saw students competing in "Technoposium" where students demonstrated technical skills in a single event while biotech engineers competed in "Bioathalon" wherein they solved crosswords and guessed pictures from the field of biotechnology. Another event was "Helicase" in which students participated in brainstorming clues and adventures. Students of electronics and communication engineering competed in "Innova", which tested the knowledge of digital electronic circuitry of competing students. In Ad Mad World, participants were asked to prepare an advertisement on hypothetical products of weird nature. "Mock placements" saw students competing for an imaginary job. Rashmi Mittal, Executive Dean of LPU, awarded a prize of Rs 1 lakh to the performers.
Religious function
A programme was organised on Tuesday on the eve of the martyrdom of Guru Teg Bahadur at St Soldier Divine Public School, Kapurthala Road. Students and faculty members took part in the religious function.
Seminar on Punjabi
A seminar on "Present state of Punjabi language" was held at Government Arts and Sports College on Friday. Punjabi poet Surjeet Patar recited poems and talked of loss of many Punjabi words in the past years. Through his soulful poetry he pointed out how English as a language had overshadowed the existence of the Punjabi language.
Another guest, Dr Lakhwinder Johal, Programme Executive, Doordarshan Jalandhar, apprised the students of the current state of Punjabi language with data collected by surveys done by UNESCO. He said, according to the survey, more than 400 languages of the world were on the verge of death. And our mother tongue Punjabi too has 50 years to live.
"No doubt that Punjabi is spoken in more than 25 countries, it is used only as a medium of communication and entertainment. It cannot attain the required status until it is associated with means of employment in the state," he added.
Blood camp
NCC cadets of Punjab 2 battalion, in association with District Red Cross Bhavan, organised a blood donation camp on Friday. The NCC wings of Lyallpur Khalsa College, DAV College and Doaba College took part. As many as 25 units of blood was collected at the camp. Commandant of 2 Punjab battalion, Lieut-Gen K.S. Chahal said NCC cadets had been taking part in such camps.
Mega carnival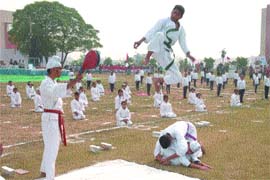 Students of Innocent Hearts Green Fields show their karate skills during a mega carnival.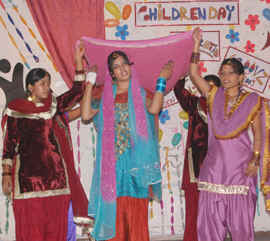 DAV College students give a performance.

A mega carnival was held at Innocent Hearts Green Fields, Loharan, near here, to mark the silver jubilee of the school on Sunday. Students participated in activities like food street, games zone, fancy dress, bouncy rides and music on demand.
Dance competition
The Department of Commerce of DAV College organised a dance and poster-making competition, "Groovz and Artists 2009". Ten teams participated in the contest. Results: B.Com (II) regular (1), B.Com-I (2), B.Com-II and III (professional) (3); poster making: Karan Yadav (1), Priyanka (2), Mandeep Singh (3).
Sports day
The primary wing of Guru Amar Dass Public School organised a special sports day for the tiny tots of the school. The students participated in events like inter-grade race, hurdle race and spoon race. The winners were given prizes.
Inter-school contest
KMV Collegiate Senior Secondary School organised Spark, an inter-school competition, in which 350 students from 22 schools took part. Students participated in declamation, working models, quiz, slogan, poster, collage, logic building and much more. Principal Atima Sharma gave away prizes to the winners.
School of Communication
Kanya Maha Vidyalaya has started School of Communication on its campus to teach French language. Quentin Calmet, a teacher from France has been appointed to teach the students. Thirty students have enrolled for the classes who include housewives, working professionals and students. The co-educational language classes are being held in the morning and evening.
Book Club
The Book Club of the Apeejay College of Fine Arts organised an open book review on Who Moved My Cheese? by Dr Spencer Johnson on Saturday. College students and faculty members participated in this event to discuss the book from different points of view.
Workshop held
A one-day workshop on effective teaching of social sciences at the middle school-level was hosted by CT Public School on November 23 which was attended by social science teaching faculty from different CBSE schools all over Jalandhar. Sagarika Mukherjee, author of various CBSE syllabus books, was the resource person of the workshop. She highlighted ways to enhance the learning process of the child, improving history learning, how to convert boredom to interest in the subject and how to evaluate a child with new continuous comprehensive evaluation.