Pakistan cannot fight terrorism selectively: US
by Ashish Kumar Sen in Washington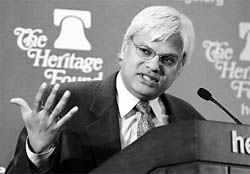 Ashley J. Tellis
Ashley J. Tellis, currently a senior associate at the Carnegie Endowment for International Peace, served as a senior adviser to R. Nicholas Burns, Under Secretary of State for Political Affairs in the George W. Bush administration. In that role, Tellis was intimately involved in negotiating the civil nuclear agreement with India.
In an interview Tellis says Prime Minister Manmohan Singh's visit to Washington this week helped create a better understanding of India's positions on key policy issues.
As for the arduous negotiations between the U.S. and Indian sides over the reprocessing of spent uranium supplied to India under the nuclear deal, Tellis says he is confident an agreement will soon be reached. "This is not something that keeps me up at night," he says.
Excerpts:
AKS: What is your assessment of Prime Minister Manmohan Singh's visit to Washington?
AT: Despite all the trepidations that preceded it, I think the final outcome has been very satisfactory and very welcome to both sides.
AKS: Was there more to this visit than just the symbolism attached to the first state visit of the Obama administration?
AT: I think this administration was trying to suggest that India is not forgotten – that India remains important, even though the constraints that the United States faces have increased because of the economic crisis and the rapid shifts in the balance of power worldwide.
I think the president emphasised that the US-Indian relationship is very unique, given the democratic traditions, the presence of Indian Americans, and the longer term national interests. India still remains very much in the constellation of America's closest friends.
AKS: What was the highlight of the visit?
AT: The personal chemistry between the president and the prime minister. If leaders feel that they can trust one another, it is the lubricant that makes all the other interactions go very smoothly.
On India's central concerns, Afghanistan, Pakistan, China, the whole issue of managing AfPak, India-Pakistan and terrorism, on all these issues India's concerns were heard – clearly.
AKS: But the Obama administration doesn't appear to have softened its position on issues such as nonproliferation, climate change and outsourcing – issues that are perceived by some in New Delhi as irritants in the relationship.
AT: It is too much to expect that the administration is going to back down on several substantive issues because these positions are tied very much to its perceptions of what U.S. national interest requires, but I think what you can say with a great degree of confidence is that there is clearly a better understanding of why India has taken the positions that it has. I think there is greater realism about India's capacity to do some of the things that may be expected of it. Thus, there is reason for optimism.
Despite the divergence, there is a clear commitment to working with India to achieve at least some key objectives.
AKS: Are there any points of convergence?
AT: Yes. First, climate change – the administration recognizes that while it would be nice to get binding commitments on controlling emissions from India today, those are not likely in the prospective future. Both sides have agreed nonetheless that they are going to do what is required to mitigate climate change through independent national policies, while working towards a regime where there is full transparency about what everyone is doing and there are ways of verifying that various objectives are being met even if those objectives are defined purely through national means. I think that is a very good step and it represents an important point of convergence.
Second, nonproliferation – both sides recognize that the critical issue is going to be Iran in the near term and over the longer term better nuclear security. I think the U.S. would very much like India to be supportive with respect to getting Iran to meet its obligations.
The key question is what does the U.S. want India to do? My judgement is that as long as the U.S. pursues the issues related to Iran in the IAEA Board of Governors and the United Nations Security Council, India will have no difficulty in supporting the U.S. on the specific objective of preventing Iran from developing nuclear weapons.
AKS: So then what are the Obama administration's expectations of India on Iran?
AT: The key objective of the Obama administration is to persuade India to use its influence to keep Iran – first, engaged with the international community; second, committed to meeting its obligations under the nuclear Non-Proliferation Treaty.
AKS: And is India doing enough?
AT: This is going to be an ongoing process. It is not something that one can assess right now – whether India has done enough or not. I think the PM was very clear, both in the remarks he made at the Council on Foreign Relations and in his private conversations during the last day [of his visit], about India's position. I think at this stage that is the best one can expect of India because it is not quite clear how the U.S. itself is going to proceed regarding Iran.
AKS: Have India's concerns regarding terrorism emanating from Pakistan been taken into consideration in Washington?
AT: The principle that the administration will hopefully articulate in the weeks and months ahead, but which it has recognised quite clearly in the aftermath of the conversations with the prime minister and his team, is that Pakistan cannot persist with its strategy of confronting terrorism selectively.
That principle is something the Obama administration has completely internalised. If there were doubts about this fact, I think the meetings with the prime minister and the discussions [during the visit] should, at least in Indian minds, erase all those doubts.
There will be a continued U.S. engagement with Pakistan; there is no alternative to the U.S. engaging Pakistan, but I think that engagement will be without any illusions. I think that was an important step forward. The point remains that the PM and the president understand clearly that Pakistan's past record on combating terrorism is unsatisfactory, and that while it has done a lot, there is much more that it has to do.
AKS: China was one of the issues discussed in the Singh-Obama meeting.
AT: India's position on China is much better understood today in the aftermath of this visit than was the case before. That was one of the most satisfactory outcomes of the events of the last day and a half.
AKS: Can the U.S. develop a strong relationship with China and India without it coming at the cost of its relationship with the other?
AT: The U.S. can, and it must, develop relations with both India and China.
During the Bush administration, we never thought of India as a counterweight to China in any mechanistic sense. The way we thought about it was that a strong India is in American interests... I think that basic proposition has not changed – at least I hope it has not changed – even though the stylistic colourations of how that is expressed [by Bush and Obama] obviously differs.
AKS: Do you believe New Delhi's anxiety over the U.S.-China joint statement was justified?
AT: India's concern about the U.S.-China Joint Statement was completely understandable. There has been a long-standing position in New Delhi that the issues related to India and Pakistan are issues to be resolved by the two countries. Not only is third-party intervention in these issues not welcome, the notion that China might actually be the third party with some role to play is particularly offensive to New Delhi because India does not see China as a disinterested party in the South Asian security competition.
AKS: U.S. and Indian teams worked hard to reach an agreement on reprocessing in the run-up to the PM's visit. Is the inability to wrap up this issue an indicator of the challenges India can expect in dealing with the Obama administration?
AT: We have had this happen in all previous summits where right up to the last minute people are working to complete a range of issues because a big meeting like this is an action-forcing event. But the fact that it wasn't completed does not surprise me because it is an involved negotiation and both sides find themselves in terrain that has not been ploughed before. The U.S. does not, as a matter of rule, give programmatic reprocessing consent rights easily. We have done this in only one or two cases previously – and India is the newest exception.
I have absolutely no doubt that within the next several weeks we will be able to reach an agreement on reprocessing and this will cease to be an issue thereafter. This is not something that keeps me up at night.