300 illegal structures razed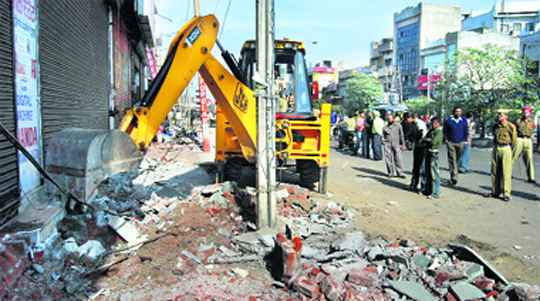 A JCB machine demolishes illegal structures alongside the GT Road in Ludhiana
on Friday. The municipal corporation razed over 300 illegal structures
during the anti-encroachment drive. A Tribune photograph
Contractors duping MC of lakhs?
Accounts department officials 'hand-in-glove' with scamsters
Ludhiana, November 27
Violation of procedure for preparation, presentation and payment of bills for construction of roads and streets within the limits of the Ludhiana Municipal Corporation has helped some contractors dupe the civic body of huge amounts.
Cops fail to make headway in banker murder case
Ludhiana, November 27
The city police might be taken to task by Home Minister P. Chidambaram for it failure to find a clue in banker Pran Ranjan Sinha murder case.
Armed robbers strike at shop
Ludhiana, November 27
Armed robbers struck at a computer shop at Kochar Market late last evening and took away cash and computer accessories worth over Rs 1 lakh.
Two arrested for selling psychotropic medicines
Jagraon, November 27
The Sudhar police has arrested Ramanpreet Singh of Khandoor village and Manmohan Singh of Mansooran village and seized psychotropic medicines from their possession.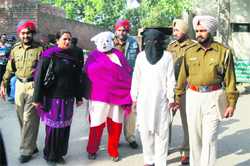 2 nabbed with 1-kg cocaine
Ludhiana, November 27
The city police has seized 1 kg of cocaine worth nearly Rs 10 crore in the international market and has nabbed two Haryana-based drug peddlers, including a woman, in this connection.



The drug peddlers in police custody in Ludhiana on Friday. Photo: Inderjeet Verma
Ex-executive held for bank loan fraud
Ludhiana, November 27
The economic offences wing nabbed a former sales executive of the ICICI Bank in a case of fraud to the tune of Rs 79 lakh here today.
Blind players still to catch govt eye
Ludhiana, November 27
The non-implementation of the sports policy for the blind by the state government has not only discouraged budding sportspersons in various disciplines, but has also hurt their sentiments, according to Gurpreet Singh Machchiwara, chairman of the National Federation of Blind Sports.


Trade Fair
Farm equipment stall pulls crowd
Ludhiana, November 27
The stall put by Central Institute of Post Harvest Engineering and Technology (CIPHET), Ludhiana, at the Indian International Trade Fair at Pragati Maidan, New Delhi, is drawing a huge response for displaying latest technologies in food processing.
'King of Bhangra' back with bang
Ludhiana, November 27
After several years of absence, Malkit Singh- hailed as original 'King of Bhangra'- has released his new studio album, 'Billo Rani', which is expected to become another hit. Punjabis all around the world look up to Malkit's original style, melodious voice and unique music as representing the state's traditional culture.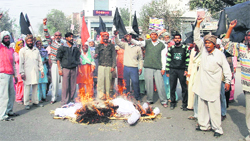 Safai workers block traffic
Amloh, november 27
The Municipal Safai Mazdoor Union, Amloh sub-division, observed a three-day strike in support of their demands.

Activists of the Municipal Safai Mazdoor Union burn an effigy of the Punjab government in Amloh on Friday. A Tribune photograph
Shopkeepers protest traffic restrictions
Ludhiana, November 27
Shopkeepers on the National Road closed their shops and staged a protest against the traffic police for imposing one-way traffic on the road leading to the Ghumar Mandi from the Bhai Bala Chowk here today.
Unregistered medical practitioners meet
Amloh, November 27
A meeting of district unregistered medical practitioners presided over by Amloh subdivision chief Sukhdev Singh Bhambri was held here at the Canal rest house yesterday.
Admn yet to wake up to accidents
Mandi Ahmedgarh, November 27
Despite identification of hundreds of accident-prone areas in the state, the administration is yet to take steps to prevent mishaps at and near these places.
No threat to Punjabi, says Surjit Patar
Jagraon, November 27
"The Punjabi as a language is not facing any threat of extinction as is being projected by a few linguists," said Dr Surjit Patar, noted Punjabi poet. He said this while addressing the students of Punjabi department at the Khalsa College for Women, Sidhwan Khurd. He was there to attend a seminar on "Punjabi Language- Depending on the respect from the Punjabis".
From Schools and Colleges
Lecture on 'Software Metrics'
Ludhiana, November 27
"Software metrics is the most important yet the most neglected area," said Prof Hardeep Singh, former Dean faculty, department of computer science, GNDU, Amritsar, while delivering a lecture at GGN Institute of Management and Technology on "Software Metrics".
PAU Notes
German fellowship for biologist
Ludhiana, November 27
Dr CS Bahga, a senior animal physiologist with the department of processing and food engineering, has been awarded the German Academic Exchange Fellowship to work with Professor Holger Martens, director, department of veterinary physiology, at the Free University of Berlin.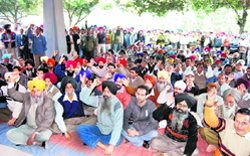 PAU employees' stir enters Day 2
Ludhiana, November 27
The protest by the PAU Employees Union entered the second day today. The protest was held in front of Thapar Hall against the "indifferent" attitude of the Punjab government and the PAU administration in granting revised pay scales as recommended by the 5th Pay Commission of Punjab government.
PAU employees protest in support of their demands at Thapar Hall, Punjab Agricultural University, Ludhiana, on Friday. A Tribune photograph
Teachers' union holds rallies
Ludhiana, November 27
The Punjab and Chandigarh College Teachers' Union (PCCTU) organised district-level rallies against indifferent, callous and anti-teachers attitude of the Punjab government towards their long-pending demands.


Four held for judicial complex firing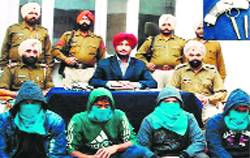 Phillaur, November 27
The Phillaur police has nabbed four persons who were involved in firing at the Phillaur judicial complex on November 20. The four members of the gang were identified as Vinay Gill, Ravi and Deepak and their kingpin as Manish Kumar Kali. They attacked two members of their rival gang, Tirlochan Singh Bilga and Gurmit Ram, with sharp-edged weapons that day and seriously injured them.
The accused in police custody at Phillaur on Friday. A Tribune photograph
Youth arrested with 3 gm of smack
Jagraon, November 27
The Sidhwan Bet police has arrested a youth and recovered 3 gm smack from his possession. SHO Sidhwan Bet Balbir Singh said SI Gurcharan Singh had intercepted the youth near the drain bridge of Janetpura village following his suspicious activities.
1 held with 4-kg opium
Phillaur, November 27
The Bilga police has arrested a drug smuggler, identified as Sat Paul of Gadra village, with 4 kg of opium last night.


PSEB told to pay Rs 1,33,650 interest
Ludhiana, November 27
Nonchalance attitude of the chief electrical inspector, Punjab, who took 11 years in deciding a petition filed before him, has cost the Punjab State Electricity Board (PSEB) dear as the permanent lok adalat has ordered the board to pay 9 per cent interest of 11 years on the amount deposited by a consumer.


Daksh claims top spot in 100m
Ludhiana, November 27
Riding on an all-round performance Daksh Aggarwal won the 100m race on the opening day of the 65th Annual Athletics Meet at KVM School here today.