PUNJAB
HARYANA
JAMMU & KASHMIR
HIMACHAL
REGIONAL BRIEFS
NATION
OPINIONS
LETTERS
BUSINESS
SPORTS
WORLD
Climate change wrecking apple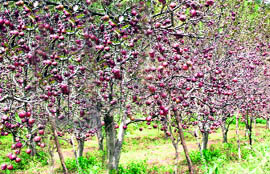 Shimla, December 1
The increasing threat of global warming has set the alarm bells ringing for the apple crop, the mainstay of the state's economy, where constraints imposed by difficult terrain, lack of irrigation facility and small land holdings make agriculture an uneconomic proposition.
Saving Forests
State finds it difficult without Centre's help
Palampur, December 1
Forests in the state not only contribute in maintaining the ecological balance, but also play a significant role in economic development of the state. In the state, forests provide physical sustenance to the fragile ecosystem and also act as a source of raw material for rural application.
Govt to develop places Bapu visited in Shimla
November 25, 2009
Goaded by HC, police to decongest Shimla
November 18, 2009
Geographical info system to boost e-governance
November 11, 2009
Illegal mining in Chakki rivulet endangers villages
November 4, 2009
Quacks play with innocent lives as govt dithers
October 28, 2009
Shimla heritage buildings lost to fires
October 21, 2009
Beas turns into carrier of waste material
October 14, 2009
Change in rozgar plan adds to khadi board woes
October 7, 2009
Bishop Cotton School has stood test of time
September 30, 2009