Body found
Lalru, December 7
An unidentified body of a man was found near Jharmari barrier at Lalru this morning.
Annual day at PTU regional centre
Patiala, December 7
Enthused students showcased their talent with soulful presentations like giddha, bhangra, group dance, solo dance and modelling at the annual function of the Vaishnoo Maa Computers, regional centre of Punjab Technical University.
Three-day sports conference ends
Patiala, December 7
The three-day national conference on sports, which was going on at Punjabi University's Kala Bhawan concluded here today.
College student raped
Kharar, December 7
A local college student was allegedly raped at her home in ward No. 11 yesterday.
Diabetes awareness camp
Bassi Pathana, December 7
Mehar Baba Charitable Trust, a social organisation, organised the diabetes, blood pressure awareness and women empowerment camp-cum-road show here yesterday. Trust patron HS Mejie inaugurated the camp. A team of doctors led by Dr JS Gill and field workers of the trust took blood samples and a majority of the persons were found to be diabetic.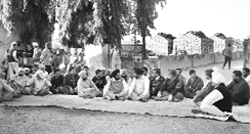 Rice millers stage dharna
Bassi Pathana, December 7
Local rice millers staged a dharna in front of the FCI depot here today. They were protesting against the dictatorial attitude of the local AG (depot) staff.

Rice millers stage a dharna against harassment by AG (depot) staff at Bassi Pathana on Monday. Photo: Surinder Bhardwaj
Paddy dumped in open continues to rot
Fatehgarh Sahib, December 7 }
Despite the government's instructions that paddy stocks be lifted as soon as possible, large quantities of gunny bags filled with the grain that are lying in the open are still rotting. Commission agents in Khamano and Ucha Pind grain markets have accused procuring agencies of "dilly dallying" over the matter for a long time.
Traffic challans fetch police over Rs 21 lakh
Fatehgarh Sahib, December 7
The local traffic police has pocketed over Rs 21.46 lakh realised from traffic offenders challaned for violating the rules this year.
Industrial development to get top priority: MLA
Ambala December 7
Former union minister and local MLA Venod Sharma today said he would focus on industrial development of the constituency during his current tenure.


Dinner for CJ
Chandigarh, December 7
The Punjab and Haryana High Court Bar Association will organise a dinner in the honour of newly appointed Chief Justice Mukul Mudgal of the high court on Thursday.
Two witnesses examined in Israeli's trial
Chandigarh, December 7
The defence counsel today examined two witnesses in the trial of Lior Avi Ben Moyal in the court of RS Attri, special court judge (NDPS). The court now fixed December 15 as the next date of hearing and the defence was likely to rest its case on that date.
Goldline Electronics told to pay Rs 5,000
Chandigarh, December 7
Failing to install new LCD television bought by a complainant, the District Consumer Disputes and Redressal Forum has directed Goldline Electronics, Sector 35, to pay a compensation of Rs 5,000.
2-day police remand for Whisky's accomplices
Chandigarh, December 7
A local court today remanded all four suspects arrested yesterday in connection with the murder of a Sector 20 financer to two days' police custody.


4 nabbed for breaching security at PU
Chandigarh, December 7
The Panjab University authorities nabbed four outsiders for breaching security and carrying weapons in their cars here today.
Girl sustains injuries in road mishap
Chandigarh, December 7
A schoolgirl today had a narrow escape when an overloaded motorcycle rammed into her scooter on the road dividing Sectors 32 and 46 here early this morning.




The victim sits on the road after the mishap (left); and the motorcyclist tries to flee from the spot. Tribune photos: Vinay Malik
Motorcyclist killed in mishap
Chandigarh, December 7 Narinder, a motorcyclist, was killed after he was hit by a truck near the railway station here this morning.
Thieves strike at Sec 7 house
Panchkula, December 7
Thieves struck at a house in Sector 7 and ransacked it in the absence of its occupants here. According to the police, the house owner, Ravinder Pal, and his family had gone to Delhi to attend a marriage.
Two booked for duping man of Rs 90 lakh
Chandigarh, December 7
The police has booked a resident of Sector 20 for allegedly duping a man of Rs 90 lakh on the pretext of selling a house.
3 juveniles held, 10 cases solved
Chandigarh, December 7
The police today claimed to have solved 10 cases of theft and burglary in the city with the arrest of three juveniles. The police recovered 17 LPG cylinders from the accused.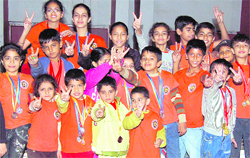 Rolling Tigers win roller skating meet
Panchkula, December 7
The Rolling Tigers won 92 medals in the 15th Panchkula District Roller Skating Championship organised by the District Roller Skating Association, which concluded here yesterday.

The Rolling Tigers Academy team, which won the roller skating championship in Chandigarh. A Tribune photograph
15 Punjab teams for BS Kahlon Golf
Chandigarh, December 7
As many as 15 golf clubs of Punjab, including five from the Army, will participate in the second BS Kahlon Memorial Inter-Club Golf Tournament to be played on the greens of the BEPTA Golf Club in Patiala on December 13.
Golf camp from Dec 15
Chandigarh, December 7
A one-month junior golf training programme will be held at the Chandigarh Golf Club for children in the age group of 6-17 years starting December 15.
43 probables for cricket coaching camp
Chandigarh, December 7
The All-India Cricket Federation (AICF) has invited 43 probables for a coaching camp, which will begin tomorrow at Shivalik Public School, Sector 41, here.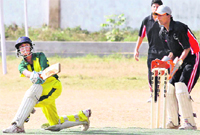 Satluj school book berth in final
Panchkula, December 7
The team A of Satluj Public School has entered the finals of the Satluj Under-17 Winter Champions Trophy Cricket Tournament beating APJ, Kharar, by five wickets on Satluj Public School grounds, Sector 4, here today.

Players in action during a semifinal match in Panchkula on Monday. A Tribune photograph