PUNJAB
HARYANA
JAMMU & KASHMIR
HIMACHAL
REGIONAL BRIEFS
NATION
OPINIONS
LETTERS
BUSINESS
SPORTS
WORLD
Monday, December 14, 2009, Chandigarh, India
Updated at 3:00 am (IST)

AP Cabinet divided over Telangana
Hyderabad, December 13
The embers of regional passions continued to smoulder in Andhra Pradesh as sharp divisions over the Centre's move to carve out separate Telangana state showed no signs of let-up. The Rayalaseema and coastal Andhra regions were rocked by protests for the third day today with legislators and other public representatives, cutting across party lines, joining hunger strike camps to express solidarity with the anti-Telangana agitation.


Nation page: Telangana waves reach Assam hills

Maru Pradesh demand gets fresh lease of life
CAST YOUR VOTE
Has the level of security improved a year after the 26/11 terrorist attack?

EDUCATION
JOBS & CAREERS
HEALTH & FITNESS
SCIENCE & TECHNOLOGY
REAL ESTATE
SPORTS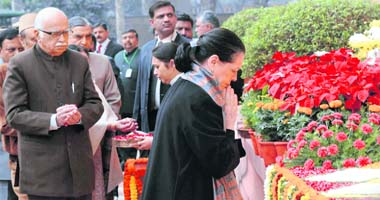 UPA chairperson Sonia Gandhi with opposition leader LK Advani paying tributes to the martyrs of Parliament attack on its 8th anniversary in New Delhi on Sunday. A Tribune photograph
(Details on Nation page)
Worried Cong top brass to meet today
New Delhi, December 13
A worried Congress top brass is likely to meet tomorrow morning, before the Parliament assembles for the day, to take stock of the situation arising out of the Andhra Pradesh crisis and devise a strategy for increasing clamour from other parts of the country for more new states.
Maya writes to PM, seeks Poorvanchal
Lucknow, December 13
After demanding creation of separate Bundelkhand and Paschimanchal states, Uttar Pradesh Chief Minister Mayawati today shot off a second letter to Prime Minister Manmohan Singh seeking carving out of 'Poorvanchal' comprising eastern parts of the state.


Editorial: UP is unwieldy
Advt
NDA 60 Glorious Years
1857 The First Challenge
E - Revolution 2005:
A Two-day IT conclave
Assembly Elections - 2005
Turbans
Chandigarh is 50
125 Years of The Tribune
India: The Tasks Ahead
India at Sixty
A Tribune Supplement
EARLIER FEATURES
On Sundays
On Saturdays
Panel advises autonomy for AIIMS, PGIs
New Delhi, December 13
The stage appears set for radical restructuring of India's premier healthcare institutes, the All India Institute of Medical Sciences (AIIMS) and PGIs, with the Prime Minister-appointed Valiathan committee on medical sector reforms recommending full autonomy for the institutes on the lines of IITs and IIMs.
Cong still undecided on motion against Dinakaran
New Delhi, December 13
The ruling Congress today appeared to steer clear of the move by Opposition members in the Rajya Sabha to bring an impeachment motion against Karnataka High Court Chief Justice PD Dinakaran.


Smart ideas, super results
Ambala, December 13
Dream it, achieve it — that's what these two 'thinking' men from Haryana have shown to the country. Winners of the prestigious Fifth Biennial Grassroots Technological Innovation and Traditional Knowledge Award, Dharamveer Kamboj (46) from Yamunanagar and Gopal Kumar Saluja (49) from Ambala are ordinary men, who have extraordinary zeal to give shape to their dreams.
No compromise on Telangana: KCR
December 13, 2009
Congress slows down as AP revolt rages
December 12, 2009

Political crisis rocks AP
December 11, 2009

State No. 29 – TELANGANA
December 10, 2009
Free-for-all in Punjab House
December 9, 2009
India, Russia seal N-deal
December 8, 2009
India, Russia agree on Gorshkov price
December 7, 2009
'Cowardly assault' won't derail Kashmir talks: PC
December 6, 2009
40 die in Pak mosque blast
December 5, 2009
Won't accept binding carbon cuts: Ramesh
December 4, 2009