Providing Irrigation
NREGS proves a boon for farmers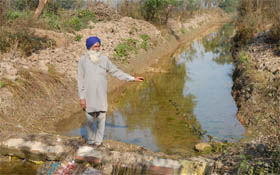 Jalandhar, December 17
Farmers, who have their agriculture land along the Bist Doab Canal, are all praise for the National Rural Employment Guarantee Scheme (NREGS) that has been instrumental in bringing irrigation to their otherwise fallow fields.



A farmer of Kapoor village shows the portion of the Bist Doab Canal, which has been cleared of wild growth. Tribune photo: Malkiat Singh

Tribune Impact
DC calls meeting over SDM threat to workers
Jalandhar, December 17
Taking a serious note of the news item "SDM 'threatens' workers after NREGA complaints pop up" published in these columns today, the Deputy Commissioner (DC), Ajit Singh Pannu, called an emergency meeting of officials to review works being undertaken under the National Rural Employment Guarantee Act (NREGA) scheme in the district.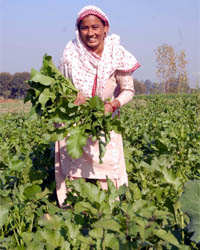 A beaming woman poses with a bunch of leaves from the mustard crop at her field in Jalandhar. Tribune photo: Malkiat Singh
1 dies, 4 hurt as bikes collide
Phillaur, December 17
A motorcyclist, Amandeep Singh (17), of nearby Mau Sahib village, was killed on the spot and four other youths were injured in a collision between two motorcycles near Partapupura village on Tuesday night.
Looking Ahead
The silent crusade: Writers reveal their projects for 2010
Jalandhar, December 17
They say a society in upheaval makes for the best literature but city-based writers do not feel the same.
Migrants' woes: JDU shoots letters to Punjab, Bihar Chief Ministers
Jalandhar, December 17
Reflecting on the issue of migrant labourers in Punjab and the recent Ludhiana episode, Janata Dal United (JDU), Punjab, sent letters to Punjab Chief Minister Parkash Singh Badal and Bihar CM Nitish Kumar, proposing remedial measures to be taken in order to avoid such incidents. JDU state secretary general B.S. Gill said the core group of the party comprising state president Inderjeet Singh Saini, senior vice-president V.K. Kaushal, B.S. Gill, chairman of labour cell Ramesh Mishra, among others, discussed the issue.
Martyrs memorial hockey from today
Jalandhar, December 17
The 1st Martyrs Memorial Hockey tournament would begin tomorrow at the Olympian Surjit Hockey Stadium, Burlton Park. The seven-day tournament would saw as many as 12 teams, including hosts Punjab Police and Sind Bank Academy, EME, CRPF, Gopal Hockey A, Punjab National Bank, Rail Coach Factory, Kapurthala, BSF, CISF, Corps of Signals, Jammu and Kashmir and Punjab and Sind Bank.
NRI victim tenants hold meet
Threaten agitation if demands, including abolishment of 13-B Act, are not met
Phagwara, December 17
Though the government has been taking several steps to attract non-resident Indians to come back to their motherland and has been facilitating them by making different laws in their favour, some NRIs were taking undue advantage of these laws and had started to act to vacate their rental properties from their respective tenants under the cover of these laws.
IGNITE-2009
Two Police DAV students win prizes
Jalandhar, December 17
Two students of Police DAV Public School brought laurels to the institution by getting selected in the National Competition for Students Ideas and Innovation, IGNITE-2009, and winning prizes.
MC supports proposal on need of PRO
Jalandhar, December 17
The Jalandhar Municipal Corporation (JMC) may take a cue from their Ludhiana counterpart and introduce the post of Public Relation Officer in order to inform people about its schemes and activities on a regular basis. Leader of Opposition in the MC Jagdish Raj Raja said though they never introduced the idea in the house, the issue would be raised in the next meeting.
YEAR-ENDER

Sports boom for Jalandhar
Jalandhar, December 17
Jalandhar, which is known for its sports goods industry, saw an eventful sporting year 2009. Many national championships were held in the district which provided opportunity both to budding players as well as the administrators to handle such significant events without any hitch.
Young World
KMV students get lessons in swine flu
Jalandhar, December 17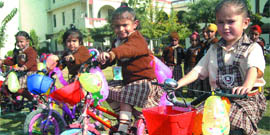 Kanya Maha Vidyalaya organised a lecture on swine flu on Thursday by district epidemiologist Dr T.P. Singh. He was accompanied by District Health Officer Dr Roop Lal. The students were told about the causes, symptoms and prevention of the disease. They highlighted the difference between common cold and swine flu, making the students aware of the disease.
Tiny tots of St Soldier's Kids Paradise participate in a cycle race. A Tribune photograph