5 years on, pain of killer tsunami lingers on
Chennai, December 26
The memories of the fateful morning of December 26, 2004, when killer tsunami tidal waves claimed thousands of lives in Tamil Nadu still linger on in the minds of people of Nagapattinam, Kanyakumari, Cuddalore and parts of Chennai district.
Testing times likely for Yeddy, Dinakaran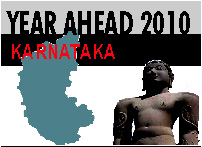 Bangalore, December 26
If 2009 started on a happy note for Karnataka Chief Minister BS Yeddyurappa -- having formed the first BJP government in the south in May 2008 -- the CM will have a very different frame of mind when he gets up from bed in the morning of January 1, 2010. The recent challenge thrown at him by dissident MLAs led by the powerful Reddy brothers of Bellary has made sure that the CM steps into the coming year with loads of apprehension in his mind about what the dissidents may have in store for him next.
Maoist violence, Koda scam shook the state
Ranchi, December 26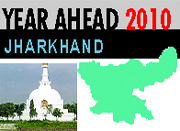 The arrest of ex-Chief Minister Madhu Koda on corruption charges and the brutal beheading of a police officer by the Maoists rocked Jharkhand in 2009, a year which also saw the state going under President's Rule and Assembly elections that threw a hung verdict. The year started with signs of political instability as JMM supremo Shibu Soren had to step down after failing to enter the state Assembly, drubbed by a relative greenhorn in politics in the January 3 Tamar bypoll.
Unique event to remember couplet-king Ghalib
New Delhi, December 26
When the kathak maestro Uma Sharma, writer-diplomat Pavan K Varma, heritage activist Firoz Bakht Ahmed, poet Gulzar Dehlvi, bureaucrat Abid Hussain and the couplets of Ghalib go together, the churning produces Yadgar-e-Ghalib --- a two-day commemoration of Mirza Ghalib held on the occasion of the inimitable poet's 212th birth anniversary.
Thulir schools out to empower the deprived
Chennai, December 26
Boys and girls, some of them in their early twenties, have gathered with books and notebooks in small class rooms, well past 7.30 in the night. Forced to toil as child labourers at an early age, they have missed their schooldays and are now trying to get back to what they have lost -- education and a happier life.
He uses RTI to fight corruption, give farmers their due
Guwahati, December 26
Noted social and rights activists and the general secretary of Krishak Mukti Sangram Samiti (KMSS), a front-line NGO working for the rights of farmers in Assam, Akhil Gogoi hit the headlines in the year gone by for his uncompromising fights for farmers' rights and efforts to popularise the Right to Information (RTI) movement in the state.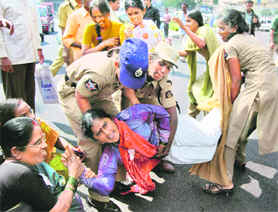 Rounded up: Police detain one of the activists of AIDWA during a protest demanding resignation of Andhra Pradesh Governor ND Tiwari, over his alleged involvement in a sex scandal, in Hyderabad on Saturday. — PTI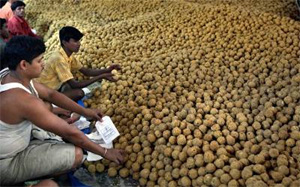 Workers prepares laddoos as part of the Vaikunth Ekadasi celebrations in Bangalore on Saturday. About 3 lakh laddoos are being prepared for distribution as prasad. — PTI

ULFA head sent to judicial custody
Guwahati, December 26
Chairman of the outlawed United Liberation Front of Assam (ULFA) Arabinda Rajkhowa and deputy commander-in-chief Raju Baruah were today remanded to 14-day judicial custody on their production before the court of chief judicial magistrate of Kamrup district here.
Pravin Mahajan may be shifted to govt hospital
Mumbai, December 26
Pravin Mahajan, who is serving a life sentence for murdering his brother and BJP leader Pramod Mahajan, may be shifted to a government hospital — he suffered a brain hemorrhage recently — after his family sought assistance from the state to bear his medical expenses.
Girl's Murder
BJP MLA seeks CBI probe
Bhopal, December 26
BJP legislator Asha Rani Singh has demanded a CBI probe into the Vasundhra Bundela case, after her husband and former MLA Bhaiyya Raja was arrested in connection with a girl's murder.
Goa eve-teasing: Taxi driver held
Panaji, December 26
The Goa police arrested a taxi driver on the charges of eve-teasing and threatening two Russian girls after they complained that the accused along with two others tried to physically assault them at Anjuna beach.
One killed by train robbers
Jamui (Bihar), December 26
A man was killed and three others wounded while trying to resist armed robbers who looted passengers of the Punjab Mail near Simutala halt in Kiul-Asansol section of East Central Railway early today.
Three policemen suspended
Hardoi, December 26
Three policemen have been suspended for allegedly thrashing a 70-year-old man to death in Jayrampur village here today, the police said.