PUNJAB
HARYANA
JAMMU & KASHMIR
HIMACHAL
REGIONAL BRIEFS
NATION
OPINIONS
LETTERS
BUSINESS
SPORTS
WORLD
Thurssday, December 31, 2009, Chandigarh, India
Updated at 3:00 am (IST)

Rathore faces SIT probe
Panchkula, December 30
Director-General of Police, Haryana, RS Dalal constituted a special investigation team (SIT) to investigate criminal cases registered against former state DGP SPS Rathore here today.

Court denies immediate relief

Editorial : Law closes on Rathore

Nation page : Ruchika kin, lawyer meet Chidambaram

Chandigarh page: Sacred Heart seeks time from admn


CAST YOUR VOTE
Should the Ruchika Girhotra molestation case be re-opened?

EDUCATION
JOBS & CAREERS
HEALTH & FITNESS
SCIENCE & TECHNOLOGY
REAL ESTATE
SPORTS
A Tribune Exclusive
Justice delayed, yet again
A forest dept clerk was also 'molested' by her boss in '94 in Panchkula. She is still waiting for justice
Chandigarh, December 30
While the public uproar over the way the then Haryana government protected top cop SPS Rathore --- accused of molesting a budding tennis player, Ruchika Girhotra --- refuses to die down, a similar case has come to light, this time in the forest department.
Telangana bandh cripples life
Hyderabad, December 30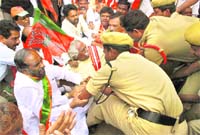 Barring sporadic incidents, the Telangana bandh today called by the all-party Joint Action Committee (JAC) in support of the separate statehood demand was peaceful.

Telangana: Centre to call meeting of 8 parties
The police detains former Union Minister and BJP state president Bandaru Dattatreya demonstrating, along with party men, outside Raj Bhawan demanding withdrawal of cases against the pro-Telangana students in Hyderabad on Wednesday. — PTI
Advt
NDA 60 Glorious Years
1857 The First Challenge
E - Revolution 2005:
A Two-day IT conclave
Assembly Elections - 2005
Turbans
Chandigarh is 50
125 Years of The Tribune
India: The Tasks Ahead
India at Sixty
A Tribune Supplement
EARLIER FEATURES
On Sundays
On Saturdays
Krishna draws line for Tharoor
New Delhi, December 30


External Affairs Minister S.M.Krishna today drew the red line for his deputy Shashi Tharoor for publicly airing his differing views on government policies. Ticking him off personally for his latest transgression, Krishna asked Tharoor to toe the line as "everyone will have to fall on the same page," once the government decides on a policy.
Headley link brings Manali in spotlight
The tourist town has long been a favourite with foreigners
Manali, December 30
Following reports that David Coleman Headley, the US terror suspect arrested for his complicity in the 26/11 terror attacks, had got in touch with an American and his female companion who run a massage parlour in Manali, the Himachal tourist town has become a focus of attention due to the large number of foreigners visiting the place every year.


Race hots up for Governor posts
New Delhi, December 30
With the posts of Governor lying vacant in six states, the Congress-led UPA government is faced with an uphill task due to the dearth of apposite contenders, it is learnt. Presently, the gubernatorial duties in three states — Andhra Pradesh, Rajasthan and West Bengal — are being handled by the Governors of adjoining states on an additional charge working arrangement.
Ruchika case to be re-probed
December 30, 2009
Tharoor 'tweet' earns rebuff from Krishna
December 29, 2009
Headley not to be extradited: FBI
December 28, 2009
AP Guv ND Tiwari resigns
December 27, 2009
Ruchika case needs to be reviewed: Moily
December 26, 2009
Crisis deepens in Andhra
December 25, 2009
Centre dithers on Telangana
December 24, 2009
Govt: Copenhagen accord doesn't affect sovereignty
December 23, 2009
Telangana: All set for decision, PM assures MPs
December 22, 2009
Pawar: Climate change to blame for price rise
December 21, 2009