GDevotees throng the Golden Temple on New Year's Eve. Photo: Vishal Kumar

Braving cold weather, a woman cycles her way to work in Jalandhar on Thursday. Tribune photo: Malkiat SinghF
No expert on executive committee: Bhaur
Jalandhar, December 31
SGPC general secretary Sukhdev Singh Bhaur said today that any decision with regard to the Nanakshahi Calendar should be taken keeping in view interests of the Sikh community.
24-hr power supply for clusters of border villages
Amritsar, December 31
To implement the next year's theme of administrative reforms, Chief Minister Parkash Singh Badal held a meeting of district administrative officials here today.
More jobs for youth expected
Chandigarh, December 31
If the promises doled out by the Punjab Government to unemployed youth of the state have an iota of credibility and sincerity, there will be plenty of jobs, including those of the PCS (Executive Branch), teachers, doctors, paramedical staff and in the Police Department, for grabbing in the coming year.
Centre clears funds for developing tourist destinations in Bathinda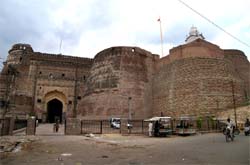 Bathinda, December 31
The Centre today cleared a long-pending proposal of the state government to develop district landmarks here as tourist destinations. After sanctioning Rs 344 lakh for four destinations, the Centre also released Rs 275 lakh (80 per cent) for the purpose.




A view of Qila Mubarik. File photo
ASI to erect fencing around Mud Fort
Abohar, December 31
The Archaeological Survey of India (ASI), Punjab branch, has decided to erect fencing around the ancient Mud Fort, a protected monument in the town, so that its vacant space cannot be encroached upon by unscrupulous elements.
Rabbi Arthur Schneier to get Guru Nanak Interfaith Prize
Chandigarh, December 31
The Guru Nanak Interfaith Prize, started by the Bindra family of the US, will be given to Rabbi Arthur Schneier, President of the Appeal for Conscience Foundation and Religions for Peace, a worldwide multi-religious coalition, Tarlochan Singh, MP, and member of the award committee announced today. The prize of $50,000 is awarded biennially to an individual or organisation chosen by a distinguished panel of judges.
VDS generates Rs 41-cr revenue for PSEB
Patiala, December 31
The Punjab State Electricity Board (PSEB) has generated Rs 41.2 crore as revenue from its Voluntary Disclosure Scheme (VDS) launched to declare actual load and get unauthorised load regularised.
Punjab govt floats Rs 200-cr loan
Chandigarh, December 31
The Punjab Government in consultation with the Reserve Bank of India (RBI) today floated a Rs 200 crore loan to finance part of the capital expenditure of plan schemes and other development schemes under execution.
Tikshan Sud for creating job avenues
Chandigarh, December 31
Labour and Employment Minister Tikshan Sud today emphasised on the need to evolve a multi-sectoral and multi-pronged approach for generating employment opportunities. He said focus on agricultural productivity and employment growth was important for the economy.
Patiala gets NREGA funds
Patiala, December 31
Funds amounting to Rs 58.73 crore would be utilised under the National Rural Employment Guarantee Act (NREGA) in the district during the 2010-11 fiscal.
Top honour for Patiala psychologist
Patiala, December 31
Dr Agyajit Singh, retired head of department of psychology, Punjabi University, Patiala, was conferred with the "Lifetime Achievement Award" in sports psychology for the year 2008-2009 during the International Congress of Sports Psychology held at Gwalior.