A ray of hope for 12 poor on New Year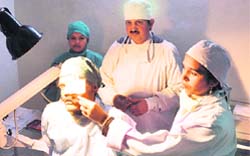 Ludhiana, December 31
The dawn of January 1, 2010, will come with a new hope for 12 persons from Punjab, Uttar Pradesh, Haryana and Rajasthan, who having lost their eyesights will now see the world with that of those who had pledged their eyes before death.


Bharat Singh, who underwent corneal transplant in Ludhiana on the New Year. A Tribune photograph
Fake Bill Scam
Two officials plead innocence
Ludhiana, December 31
While Manoranjan Kalia was swift in taking action against 13 erring municipal corporation officials in the fake bill scam, two suspended officers, an SDO and a JE have pleaded innocence.
Man held for killing wife, daughters
Two others also in police net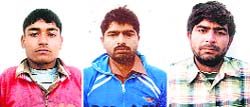 Ludhiana, December 31
The city police claims to have solved the blind murder case of a woman and her two daughters with the arrest of her husband and two others today. Three of them were murdered near a railway track at the Civil City in the Chander Nagar area on Monday evening.
From left: Naveen Kishor, Joty Kumar, Ashok Kumar in police custody in Ludhiana. A Tribune photograph
NRI kills local girl
Ludhiana, December 31
When the family of Manjeet Kaur, a local girl from the Daba area,had seen her off at the airport two years ago, they had never imagined that they would have to fight to get her body back.


Training camp for YC workers ends
Ludhiana, December 31
A two-day training camp organised by the District Youth Congress (DYC) for its ranks to apprise them of the policies of programmes of the Congress-led UPA government at the Centre concluded here today.
MCPI raps govt for price rise
Ludhiana, December 31
The Marxist Communist Party of India (MCPI) has flayed the skyrocketing prices of essential commodities and attributed the inflationary trends to the Congress-led UPA government at the Centre.
Delay in LPG supply harries residents
Samrala, December 31
A large number of local residents today complained of delay in LPG supply to various areas of the town.
Cops gear up for New Year celebrations
Jagraon, December 31
The police head of Ludhiana (Rural) police, SSP Harinder Singh Chahal, considering last year incidences has geared up its recourses to prevent any unsavory incidence in the area. Chahal said the police would be alert during the New Year Eve celebrations.
Three medical stores raided
Ludhiana, December 31
A team of drug inspectors lead by state drug controller Bhag Singh confiscated a huge quantity of the Scheduled "H" drugs during a raid conducted at three outlets in Pindi Street, here yesterday.
Rs 23-lakh grant for villages
Khanna, December 31
Chief parliamentary secretary (technical education) Bikramjeet Singh Khalsa today distributed grant for various development works in different villages of Khanna.
Pankaj first in dance contest
Ludhiana, December 31
A dance competition was organised by Bollywood Dreams Dance Academy in which children between 5-20 years participated.
Canadian MP for more visas to Punjabi students
Jagraon, December 31
"The Canadian government is seriously considering the issue of raising the number of study visas for Punjabis keeping in view the interest of the local youth in pursuing higher education in Canadian colleges and universities," said Tim Uppal, Member of Parliament from Edmonton (Canada), while addressing mediapersons at a felicitation ceremony organised by the Punjab Cultural Promotion Council here yesterday.