An old woman braves the chill (left); and people try to keep themselves warm in Chandigarh on Monday. Tribune photos: Vinay Malik
Inscol fined Rs 10 lakh for poor service
Chandigarh, January 4
The District Disputes and Consumer Redressal Forum has directed Inscol Multi-Speciality Hospital, Sector 34 -- through its managing director along with Dr Jayant Banerjee, medical superintendent, and PS Mann and Alveena Samson, assistant nursing, superintending -- and United India Insurance Company to pay a compensation of Rs 10 lakh to a complainant for causing mental agony and physical harassment since 2005.
Admn opposes Babla's bail plea
Says he continues to act as if he's above law
Chandigarh, January 4
In a strong-worded reply opposing the bail application of Devinder Singh Babla, the UT administration has gone on the offensive against him.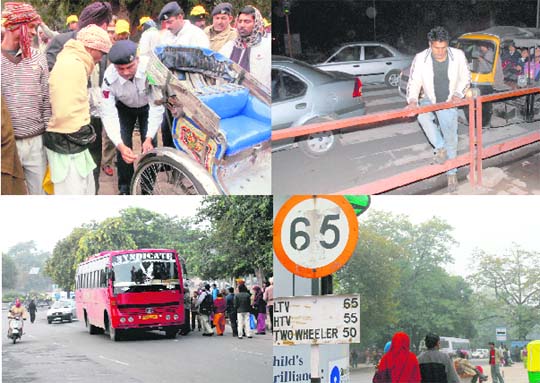 The police is trying, but: (Clockwise from top left) While a traffic policeman pastes a reflector on a rickshaw as part of a drive to raise awareness about traffic rules, on the flip side a railing blocks a zebra crossing forcing pedestrians to jump over it in Sector 22, a sign specifies 65 km/h as the speed limit for light transport vehicles outside the PGI and passengers board a bus at an unauthorised bus stop near the Sector 21-22-34-35 roundabout in Chandigarh. Tribune photos: Vinay Malik and Pradeep Tewari


Profile
Anu Chatrath
Politics, law, education — All ingrained in one
Chandigarh, January 4
Anu Chatrath, who was elected Mayor of the municipal corporation for the second term on Friday, is a rare combination of politics, law and education.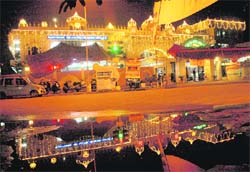 The gurdwara at Sector 34 decked up on the eve of the birth anniversary of Guru Gobind Singh in Chandigarh on Monday. Tribune photo: Manoj Mahajan
Training course for leading firemen
Fire dept strays from policy
Chandigarh, January 4
The Chandigarh fire and emergency department policy of imparting training to its staff through a sub-fire officer course is not being followed strictly, as fire employees shortlisted for the 25th sub-fire officer course do not fulfil the eligibility criteria under the policy.
First-aid workshop for cops
Chandigarh, January 4
The Chandigarh Traffic Police today organised a first-aid workshop for police personnel as part of the ongoing 21st National Road Safety Week.
PGI nursing student suicide
Guide, principal accused of harassment
Chandigarh, January 4
Anshu Mathew, the MSc nursing student at the PGI who committed suicide, had allegedly been facing mental torture at the hands of her guide, who had rejected her synopsis several times.
Farmers' body for action against corrupt officials
Chandigarh, January 4
Members of the Mani Majra Farmers' Welfare & Environment Protection Society today held an executive body meeting to deliberate on various critical issues pertaining to the administration of the Union Territory, a press release said here today.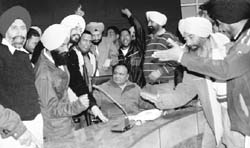 Farmers refuse to part with land
Mohali, January 4
Landowners of Desumajra, Ballomajra and Brialey today refused to part with their land to be acquired by GMADA for mix land use along an upcoming road, proposed to connect Kharar with the Patiala road at Chatt village.

Landowners at the GMADA office in Mohali on Monday. Tribune photo: Vicky Gharu
Anti-tobacco drive for labourers
Chandigarh, January 4
Disabled Persons' Welfare Organisation, Punjab, organised a camp at Furniture Market, Sector 54, here against the use of tobacco.
Meeting on pulse polio drive
Chandigarh, January 4
A meeting of the state coordination committee was held at the UT secretariat today under the chairmanship of Special Health Secretary Ajoy Sharma.
Braille reading contest at vocational institute
Chandigarh, January 4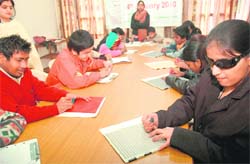 Amway Opportunity Foundation (AOF) in association with the National Association for the Blind (NAB), organised a Braille reading and computer typing contests for the visually challenged to commemorate Louis Braille Day at Asha Kiran Vocational Institute for differently abled in Sector 46 here today.


Visually challenged students paricipate in a Braille contest in Chandigarh on Monday. Tribune photo: Manoj Mahajan
Tracing roots of Gurmukhi


Chandigarh, January 4
The Punjabi Kala Kender, a literary and cultural society formed by the Late Bollywood actor Balraj Sahni in Mumbai, organised a talk by Prof Joginder Singh Kairon on "Digital Roots of Gurmukhi Script" at the Punjab Kala Bhavan here today.
Wg Cdr Jasbir Singh Minhas, who has topped in MBA (executive) from Punjabi University, Patiala.
Disburse aid among all riot-hit, says Rodrigues
Chandigarh, January 4
Punjab Governor and UT Administrator SF Rodrigues, in response to a complaint by one of the 1984 riot victims, today asked the Finance Secretary to disburse financial assistance among all 92 cases of the riot-affected who had got clearance.
Time limit for scrutiny extended
Chandigarh, January 4
The Chandigarh administration has decided to scrutinise those VAT returns for 2005-06 which could not be scrutinised earlier. According to an order issued by the Deputy Commissioner-cum-Excise and Taxation Commissioner, the returns for the period from December 15, 2005, to March 31, 2006, could not be scrutinised and assessed due to inadequate resources, including manpower, within the stipulated timeframe.
Private companies to maintain parks from April 1
Mohali, January 4
The Greater Mohali Area Development Authority (GMADA) has planned to hand over big parks in the town to private companies for maintenance to enable it to shift its focus to the development of parks in the upcoming sectors.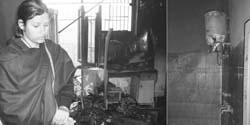 Goods worth lakhs gutted at NRI's house
Zirakpur, January 4
Household goods worth lakhs of rupees and important documents of Kalyan Singh, an NRI, were gutted in a fire that broke out today at Sharma Estate in Lohgarh village here. Kalyan's wife was living with her two children.
The house that was gutted at Sharma Estate, Lohgarh village, in Zirakpur on Monday.
Tribune photographs



PUTA opposes online attendance
Seeks discussion on teachers' evaluation
Chandigarh, January 4
In its executive meeting, PUTA deliberated over the issues of online attendance and teachers' evaluation here today. A press release issued by Dr Akshaya Kumar, secretary, said: "It was resolved that online attendance must not be made mandatory on the campus. However, departments that opt for it may be allowed to do so."

PUTA chief honoured
Chandigarh, January 4
Prof NS Mann, a former fellow of Panjab University, president of the Panjab University Teachers' Association (PUTA) and chairman of the Physical Education Department, has been conferred the 'Lifetime Award in Sports Psychology for 2008-2009' by the Sports Psychology Association of India.
Prof NS Mann,
100 percentile for city girl


Chandigarh, January 4
Shruti Sood, a BCom final-year student of the GGDSD College, Sector 32, has won laurels by securing 100 percentile in the management aptitude test (MAT) prelims. Being speculated as the all-India MAT topper, Shruti is not just elated, but exited to contest for the next level, that is, group discussion.
Shruti Sood
Placement drive at Chandigarh colleges
Chandigarh, January 4
Outline Systems, a US-based multinational company in a state-level joint campus recruitment drive at Chandigarh Group of Colleges (CGC), Gharuan Campus, for graduate students of Punjab selected 15 students.