Young World
LPU students' campaign for wastage-free hostel
Jalandhar, January 5
Students of Lovely Professional University, Phagwara, organised a drive in hostels to reduce wastage of food, citing the prevalent problem of starvation and malnourishment in various parts of the world. Pictures, slogans and visual presentations were created and display the insensitivity of food wastage, when millions die of hunger.
Woman alleges harassment by in-laws
Jalandhar, January 5
Allegedly harassed by her in-laws, a Maqsudan resident has been making rounds of the district police for registering a criminal case against them. Neeta (29), who was married to Jaswinder Singh, a resident of Noida, has complained to the Noida police and the Jalandhar police in this regard.
Electronics goods worth lakhs stolen
Jalandhar, January 5
Thieves broke into a showroom of electronic goods in Rattan Towers at Namdev Chowk and decamped with goods worth lakhs of rupees last night. Finding locks of the entrance to the showroom Samsung Plaza broken, the sweeper, Tinku, informed the owner, Sudarshan Lal Khanna, about the theft.
People huddle indoors to beat the chill
Jalandhar, January 5
The intense cold and foggy conditions continued unabated across the region with people shivering indoors all daylong. Expecting a respite from the ongoing cold wave from the past week, people were disappointed to wake up to another day of freezing temperature.
Fog woes: Trains running behind schedule
Phagwara, January 5
Most of the mail and express trains are running half an hour to three hours behind schedule due to poor visibility caused by thick fog in the region today. The 9224 Jammu Tawi-Ahmedabad Express train was running three hours late, while the 9223 Jammu-Ahmedabad train was running two hours behind schedule .
Plan to get Kala Sanghian drain rid of polluted water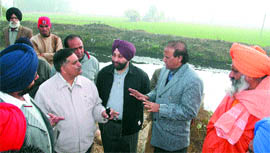 Jalandhar, January 5
If all goes well, the entire belt of villages situated around the Kala Sanghian drain will get rid of polluted water. In a new plan, which is the joint efforts of the Punjab Pollution Control Board, Sewerage Board and Municipal Corporation, polluted water of the drain will be diverted to the already established Sewerage Treatment Plant.

Baba Balbir Singh Seechewal on a visit to the Kala Sanghian drain. A Tribune photograph
Changes in Nanakshahi calendar will divide Sikhs: Dal Khalsa
Jalandhar, December 5
Contesting the views expressed by the Jathedar of Akal Takht, Giani Gurbachan Singh, that the changes in the Nanakshahi Calendar would unite the Sikhs, the Dal Khalsa observed that instead it would further divide the community. The radical Sikh group has taken exception to the manner the Akal Takht Jathedar ratified the decision of the SGPC to dilute the Nanakshahi calendar without calling a meet of the Jathedars of the five Takhts.
Theft in temple
Phagwara, January 5
Some miscreants entered the Chaurra Khu Mandir in Bazaar Bansanwala here and took away a silver snake installed near Shivaling this afternoon. Temple caretaker Ashok Kumar said the miscreants took advantage of his absence and took away the offering of silver snake from the temple. — OC