Ginners' strike continues
Cotton farmers turn to Rajasthan
Abohar, January 6
Farmers have started selling cotton in the neighbouring markets of Sadulshehar and Sriganganagar as members of the Punjab Cotton Factories and Ginners' Association continued their strike today. MLA Sunil Jakhar regretted that the state government had not found time to invite the representatives of 350 factories for table talk even when the processing of cotton remained suspended for the last five days. It appears that the SAD-BJP alliance was worried of the stalemate on power tariff that haunts the existence of the government now, he said.
Dilapidated bridge over Aspal drain poses threat to life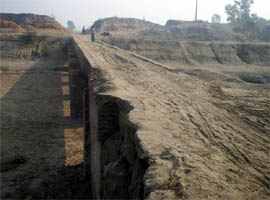 Fazilka, January 6
The bridge constructed over Aspal seepage drain near border village Aalamshah is in dilapidated condition. It has become accident prone. There is imminent threat of serious tragedy as the bridge connects hundreds of residents of four villages namely Kotha, Vasakhewala Khu, Mohammad Pira, Bakhushah and Alamshah, to Fazilka town. This bridge was constructed about nine years back when the Aspal seepage drain was dug to overcome the seepage problem.
The bridge constructed on Aspal seepage drain near border village Alamashah in Fazilka. Photo by writer
Barnala resident dies of swine flu
Barnala, January 6
Fear has gripped Qilla Muhalla in Barnala city after an elderly tea stall owner Ramji Lal died of swine flu today. The team of doctors from Barnala civil hospital after identifying the persons, who came in contact with the deceased, has started giving them medicine for the swine flu infection.
Trains cancelled due to fog
Sriganganagar/Abohar, January 6
The North Western Railway (NWR) has cancelled three express trains up to January 31, PRO, YK Sharma informed today. Citing dense fog as the reason for cancellation, the PRO listed the trains as 4525/4526 Sriganganagar-Ambala intercity express, 9771/9772, 9781/9782 Jaipur-Amritsar-Jaipur express and 4853/4854 Jodhpur-Varanasi-Jodhpur Marudhar express. However, the NWR authorities would closely monitor the climatic conditions and may think of restoring the trains, if the weather is found congenial. The Jaipur-Amritsar express would not leave Jaipur tonight.
Rly overbridge to be inaugurated on Jan 12
Abohar, January 6
Deputy chief minister Sukhbir Singh Badal has reportedly given his consent for inaugurating the railway overbridge here on January 12, official sources said. Sukhminder Singh Bedi, senior XEN PWD, who had monitored the construction of the ROB and project in-charge Sanjeev Gupta of the construction company were quoted saying that they have received the message from the district authorities to chalk out the opening ceremony.
Protest over rejig of villages
Mansa, January 6
Residents of 12 villages have started demonstrations against the government's decision to attach these villages with Sardulgarh sub-division after detaching them from Mansa. To protest against this decision, people of these villages had formed a Pendu Insaf Sangarsh Committee.
Woman arrested for cheating husband
Bathinda, January 6
On the complaint of Satbir Singh, a local resident, the police has registered a case under Section 420 of the IPC against his wife Meenakshi Sharma, her father Surinder Sharma, her brother Tinkoo Sharma, her mother and her sister, all residents of Panchkula. Meenakshi and Tinkoo have been arrested while others are still at large.
Passengers' welfare body distributes train time-table
Bathinda, January 6
Like every year, the Railway Passengers Welfare Association, an organisation affiliated to the Akhil Bhartiya Grahak Panchayat and formed to protect interests of consumers, distributed Helping Hand Trains Time-table of Bathinda and nearby stations among residents of the areas.
Three held for stealing motorbikes
Four vehicles recovered
Bathinda, January 6
The local police has arrested three persons on the charge of stealing motorcycles. Four motorcycles have been recovered from their possession. SHO Gurjit Singh Romana said today that Nandu, resident of Makaan under Karanpur police station in Rajasthan, Kuljit and Johny Garg, both residents of Bathinda, had been arrested the previous evening along with a stolen motorcycle. He said that during preliminary interrogation, the police also recovered three more motorcycles from them.