Tempo driver looted, killed by robbers
Ludhiana, January 6
Robbers killed a driver of a goods carrier and fled with a tempo containing grocery items worth Rs 5 lakh from the Jalandhar road near Amaltas in the wee hours today. A passer by spotted the driver's body tied to a tree along the road and raised an alarm. The deceased has been identified as Dinesh Kumar (27), a resident of Islam Ganj.
Rape Case
Leader strips against police inaction
Ludhiana, January 6
High drama was witnessed in front of the SSP office here today, when a local leader along with his close aide removed their clothes and staged a dharna against police inaction in a rape case. Shivcharan Sharma, who claims to be the state president of the Rashtrawadi Sena, shocked everyone when he along with his close friend Ramesh Chobay removed their clothes and began protesting at Focal Point for inaction in the alleged abduction and rape case of an 11-year-old.
'False shortage' of LPG irks consumers
Ludhiana, January 6
Irked over unscrupulous practices of the LPG dealers, who are showing "false shortage" of the LPG in order to sell their cylinders in black, consumers today took to streets to protest against gas agencies and their parent oil companies. Having failed to get the LPG supply even after 40 days of its booking, consumers have given formal complaints against agencies falling under their areas to the district food and civil supplies department.
Ticker installed outside LSE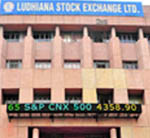 Ludhiana, January 6
For the convenience of hundreds or perhaps thousands of shareholders in the city, the Ludhiana Stock Exchange (LSE) has started providing information about shares on a ticker. With this latest facility, the shareholders can gather all necessary information regarding shares on the board outside the LSE without even entering the premises.

The newly installed ticker outside the LSE in Ludhiana. A Tribune photograph
| | | |
| --- | --- | --- |
| | | |
Pension Issue of PAU Retirees
Contempt proceedings to be initiated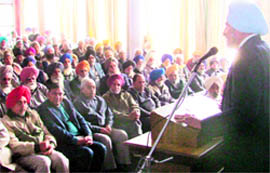 Ludhiana, January 6
The dilly dallying attitude of Punjab Agriculture University (PAU) in paying pension has invited the ire of the university's retirees, who have now decided to initiate contempt proceedings against the authorities for non-payment of pension for November and December 2009. The Punjab and Haryana High Court had passed an order to PAU to pay its pensioners regularly.
Dr SS Johl addresses pensioners at a meeting on the PAU campus, Ludhiana, on Wednesday. A Tribune photograph
Special Industrial Package
Manish Tewari seeks concessions for Punjab
Ludhiana, January 6
Seeking a regional rather than state-specific approach for development, Manish Tewari today urged the Prime Minister and the Union Finance Minister to extend a special industrial package granted to three hill states of Jammu and Kashmir, Himachal Pradesh and Uttrakhand, to Punjab as well.
Judges, SDM upset over Bakshi Khana's upkeep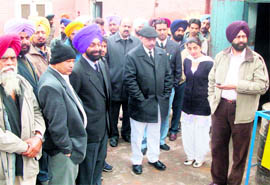 Jagraon, January 6
Judges along with the SDM today inspected the functioning of the local court complex to verify the complaints lodged by litigants and those visiting the complex. Judge Mandeep Kaur was upset over the number of complaints submitted to her by various persons. She got miffed after receiving complaints from an accused in the HDFC Bank fraud case.

Judges and officials inspect the Bakshi Khana in Jagraon Court Complex. Photo: Rakesh Gupta

PAU Notes
Seminar on drug addiction
Ludhiana, January 6
The NSS Cell of Punjab Agricultural University today organised a seminar on thought provoking subjects of road safety and drug abuse with an aim to spread awareness among students on these issues. Preeti Kansal, founder and general secretary of the Aagaz Charitable Foundation delivered a speech on 'Awareness on Road Safety as well as Drug Abuse'.
SC Kids
Education dept told to check drop-out rate
Mandi Ahmedgarh, January 6
Despite tall claims being made by the state government on facilities being provided to kids belonging to lower strata families, the literacy rate of Scheduled Caste is still lower than that of overall population. Specific corrective measures being conspicuous by absence, the district education officers of the state have been directed to undertake further action to improve the ratio.
Cardiologists awarded
Ludhiana, January 6
The Rotary Health Care Foundation organised a vocational award ceremony to honour Dr Anil Mehra, USC division of cardiology, Los Angels, USA, Dr GS Wander, chief cardiologist and Dr Bishav Mohan, associate professor of Hero DMC Heart Institute, Ludhiana. The ceremony was organised under the chairmanship of Jagdish Lal Behal.
Pay Scales
Non-teaching staff stage dharna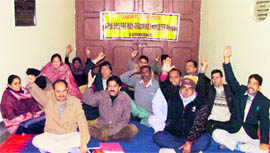 Ludhiana, January 6
Non-teaching employees of Arya College today staged a dharna on the college campus against the non-implementation of the revised pay scales. Resentment prevailed among members of the Non-Teaching Employees' Union with regard to their long-pending demands.

Non-teaching employees of Arya College stage dharna in Ludhiana on Wednesday. Tribune photo: Inderjeet Verma

NCC cadet to take part in R-Day parade


Mandi Ahmedgarh, January 6
Nayeea Vinayak, NCC cadet, from Anand Isher Senior Secondary School will make the school proud when he along with cadets from other states take part in the Republic Day parade (January 26) in New Delhi. She along with other cadets from Punjab, Haryana, Chandigarh and Himachal Pradesh have already left for New Delhi after completing their three weeks training at Air Force Station at Zirakhpur.
Nayeea Vinayak
Bank opens branch
Ludhiana, January 6
ICICI Bank Ltd, India's largest private sector bank, today inaugurated their new branch at Dugri, Ludhiana. SK Aggarwal, senior divisional manager, Life Insurance Corporation of India, inaugurated the branch. According to a press note issued, the branch has good parking facilities that will provide greater convenience to its customers.
Foundation stone laid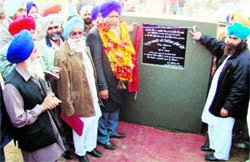 Raikot, January 6
Gulzar Singh Ranike, Minister for Animal Husbandry, Fish Farming and Dairy Development, today laid the foundation stone of a water works at Nathowal village. It would be constructed at the cost of Rs 56 lakh and be sufficient for the village for at least two decades. Gurmeet Singh, Gurdeep Singh and Charanjit Singh had donated the margin money worth Rs 4.84 lakh in the memory of their father Bhag Singh Buttar.
Gulzar Singh Ranike lays the foundation stone at Nathowal village. Photo: Rakesh Gupta

Women cell reunites couple
Jagraon, January 6
The women cell today reunited a couple, who had parted ways a year back. Paramjit Kaur of Raikot and Gurmail Singh of Pakki Kenchian, Barnala, got married seven years ago and have three children out of the wedlock. Due to some dispute, the couple started living separately. Paramjit filed an application at the women cell, Jagraon, against her husband and mother-in-law following which a case was registered against them at the Raikot police station under Sections 498A, 323, 354, 506 IPC.
Dept of Posts accused of negligence
Raikot, January 6
A resident of the town has accused the local post office authorities of losing the passport of his daughter that was dispatched by the Regional Passport officer, Chandigarh. Satpal Sharma of Raikot has accused that the passport office in Chandigarh posted the passport of his daughter Ranjit Kaur to his residential address vide speed post receipt No. EP 784269915 on August 12 2009.
Home guards to protest on Jan 11
Ludhiana, January 6
Struggling to keep their kitchen fires burning despite raging inflation, the part time appointed home guards have now decided to take up the path of conflict to get themselves heard and remunerated fairly. The guards, who claim they are paid only Rs 150 every day in spite of their tough duties, asserted they were not able to run their households with this meager amount especially as prices of essential commodities had risen manifold.
'Allow small flour mill owners to purchase wheat'
Mullanpur Dakha, January 6
The state as well Central governments should take initiatives to provide foodgrains at cheaper prices to the general public, Chanderbhan Jain, vice president of the Punjab Vyopar Mandal (PVM), told The Tribune yesterday. He lashed out at the government's decision to supply wheat only to roller flour mills at a rate of Rs 1,240 per quintal along with taxes, at which the price worked out to Rs 1,290 a quintal.
Post-promotions, DGP Gill favourite among cops
Mandi Ahmedgarh, January 6
Finalisation of the seniority list and commencement of process for promoting the cops who had been running from pillar to post for many years, has projected the Punjab police chief as one of the most favorite DGPs. With at least 140 cops being promoted in the first phase and members of their families, expressing gratitude to the state police chief, even those who had once started applying for long leave after feeling humiliated on being made to salute their juniors are once again in high spirits.
DBA Elections
Eight file nomination papers
Ludhiana, January 6
The process of filing nomination papers for the annual elections of the District Bar Association (DBA) took place today with eight lawyers filing papers for different posts. The elections are to be held on January 15. Ashok Mittal was the first to file his nomination papers with the Returning Officer (RO) for the post of the presidentship of the DBA. Senior lawyers, including Avinash Chander Gupta, Darshan Singh Gill, Harinderjit Singh Gill, Vikas Gupta, Vishal Gupta, and JS Miglani, accompanied him.
MC shows unseemly haste in severing sewer connections
Ludhiana, January 6
If the outcry over mass disconnections of water supply and sewerage services for nonpayment of user charges is any indication, the ongoing drive launched by the municipal corporation in the city to recover huge arrears appears to have become a tool in the hands of its staff to harass residents and even settle personal scores in certain cases.
MC foils plan of land grabbers
Ludhiana, January 6
The Municipal Corporation (MC) foiled the plans of land grabbers, who were allegedly trying to take possession of the 1,000-yd long MC public park by carrying out illegal construction here today. The park is situated in Chet Singh Nagar near the Gill road. According to MC sources, a team headed by (Zone- C) official Nirmalpreet Singh reached the spot and stopped the construction on the park.
Film explores farmers' sufferings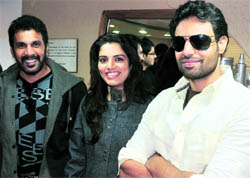 Ludhiana, January 6
The forthcoming Punjabi film "Mitti" explores the sufferings of poor farmers in Punjab, who have been bearing the brunt since the arrival of multinational companies in the country. The star cast of the film was in the city today. Lakhwinder, who is playing a lead role in the film, said, "The film is about four guys, who decide to raise their voice against the injustice. Singer Mika has acted in the film."


Starcast of 'Mitti': Waqar Sheik, Kashish and Lakhwinder in Ludhiana on Wedneday. They were here for the promotion of the film. Tribune photo: Himanshu Mahajan

Fraudulent calls worry subscribers
Ludhiana, January 6
Do not get excited if you receive a call informing that you have won a lottery or an award. Such calls are fraudulent and subscribers of various telecom companies are being targeted these days. Subscribers are arbitrarily being targeted by callers who pretend to be calling on behalf of the customers' telecom operator and inform the recipient that they have won a prize or a lottery.



Bata's ex-manager booked for fraud
Ludhiana, January 6
A former manager of a Bata showroom located near the Girja Ghar Chowk in Chaura Bazaar has been booked for committing a fraud worth Rs 11 lakh. Naresh Tangara, the accused, who resides in Gandhi Colony, Muzaffarnagar, Uttar Pradesh, has been booked following a complaint lodged by Satish Sharma, district manager of Bata Shoe Company.
Mutilated body found from fields
Mandi Ahmedgarh, January 6
The body of an unidentified middle-aged man bearing marks of electrocution and mutilations due to stray canines was found in a field on the outskirts of Khera village in Ludhiana district, near here, on Tuesday. The Dehlon police has initiated process to identify the victim and his killers if any.
Man tries to implicate rival, lands in jail
Ludhiana, January 6
A business rivalry turned ugly after a scrap dealer so as to settle scores put a country- made weapon in his rival's car. Munish Kumar Mani (27), a resident of Tibba road, who was nabbed by the city police for possessing the weapon, was let off and his business rival who allegedly informed the police about it arrested.
Bittu, Bhootna chargsheeted
Ludhiana, January 6
The Court of Chief Judicial Magistrate Jatinder Kaur today handed over the copies of chargsheet to Shiromani Akali Dal Panch Pardhani head Daljit Singh Bittu and an alleged Babbar Khalsa terrorist Balbir Singh Bhootna. They were facing allegation of indulging in unlawful activities.
Man booked for raping minor
Machhiwara, January 6
The police today booked a person for allegedly raping his minor niece. The accused has been identified as Jarnail Singh, who works at a liquor vend. The victim alleged that the accused took her to a liquor vend on the pretext of providing her a job and allegedly raped her.
Electrician steals temple money
Ludhiana, January 6
An electrician who was hired to install close circuit TV cameras at Govind Gau Dham temple near Partap Singhwala in Haibowal turned out be a thief. According to the Haibowal police, he broke the locks of the two cash boxes lying in the temple library and fled away with money that had been deposited in them as offerings amounting to about Rs 5,000.