Good News: Intense chill gets swine flu on wane?
Amaninder Pal
Tribune News Service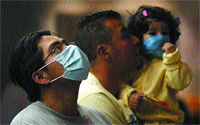 I disagree, says anonymous health official, it might be back with the summers

Jalandhar, January 12
Has the decline in mercury over the past few days put any influence on the prevalence of swine flu cases in the state? Data pertaining to the killer disease reveal that there is a decline in the number of swine flu cases and deaths over the past few days.
However, it is yet to be determined whether this development is a result of the efforts of the health department or simply an affect of decrease in temperatures.
According to data obtained from the office of the state Nodal Officer, two deaths have been reported in the first 10 days of this month, as compared to 28 deaths in December last year.
Moreover, a qualitative change is also reported in the results of laboratory tests conducted for the disease.
"In the last few months, results of more than 50 per cent of samples were positive. However, in this month, there is a marked decrease in the positive outcome of tests. In addition to this, significant decrease in the frequency of samples, reaching to the testing laboratory has also been reported," said Dr Deepak Bhatia, state Nodal Officer for swine flu.
"Though lowering of temperature might have played some positive role, it is widespread campaign, early screening and administration of Tamiflu to the suspected cases which brought the death rate down. Earlier, the survival rate of patients was very low as patient reached at centres where facility of ventilator is available at the late stage," he added.
Meanwhile, admission of suspected or positive swine flu cases in the district-level hospitals has also declined. No suspected patient of the killer disease has been admitted in the civil hospitals of Jalandhar, Kapurthala, Nawanshahr and Hoshiarpur for the past few days.
However, experts feel that the decrease in the prevalence of the disease is only due to extreme decline in temperature. "There is a catch in the data itself. The authorities say that frequency of samples for swine flu testing has considerably decreased. This shows that only the infectious capacity of the virus has come down," said one senior health official, requesting anonymity.
"Mode of administration of drug and facilities of screening and testing are quiet same as that of earlier months. Moreover, in the absence of any research and epidemiological study regarding the prevalence of disease in the state, how is it possible for authorities to establish the definite fall or rise in the prevalence of disease? Are they sure that there would be no backlash of disease in the coming sunny days? Nothing has changed except temperature," he added.