Info-centres flooded with queries
Sandeep Rawat
Tribune News Service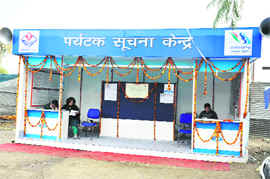 A tourist information centre at Rishikul. Tribune photo: Rameshwar Gaud
Haridwar, January 16
Visiting Haridwar during Maha Kumbh and Ardh Kumbh, when millions of people throng the city, is a challenging task for tourists and pilgrims. Commuting in the city and reaching Har-ki-Pauri, bus station, railway station, hotels, dharamshalas and the houses of their relatives is not an easy task for outsiders.
Keeping all this in mind, an unique project has been taken up by the Tourism Department during the ongoing Maha Kumbh.
The Tourism Department, in collaboration with event management companies, has undertaken this project to help and provide assistance to pilgrims and tourists during the mega fair.
There are eight information centres in Haridwar and Rishikesh. Thousands of persons used these kiosks during the back-to-back holy baths of Makar Sankranti and Mauni Amawasya.
These tourist information kiosks are proving quite helpful and answering the queries and solving the problems of Indian and international pilgrims and tourists to a large extent.
These information kiosks have been established at Rahi Hotel, railway station, Rishikul Inter-State Bus Station, Bhirawali and Dakshdeep. Four more will be set up as the Maha Kumbh progresses.
These tourism information centres are operational 24 hours during festive baths. On normal days, these function from 8 am to 6 pm.
The tourist centre at Rishikul seems to be abuzz with people, especially bus passengers. Being in the midst of two bus stations - Rishikul bus station and Rishikul-2 bus station - a majority of queries there were related to bus routes.
As there was no training and no brochure was given to the personnel about bus schedules and routes, they went to the bus station office and got the schedule.
Deepak Kumar, an information officer at the Rishikul Tourist Centre said, "Now, we can give the right information about bus routes to major and nearby cities without seeing the schedule as we get queries the whole day."
District Tourism Officer YK Gangwar termed this as an initiative of the department and said that local youths were also hired in these centres thus providing them employment.
Seeing a female receptionist, some persons ventured to pose some queries just for fun. "Whenever we feel a specific person or group is just asking questions to have fun, we switch them over to our male counterparts or ask for their identity cards.
"This proves quite effective, but then, these are rare incidents and we are getting very good response," said a female information receptionist on condition of anonymity from Sanket Communications, a New Delhi-based event management company.
Considering that the main bus station had been shifted and six temporary stations set up, new traffic plan is to be implemented during the festive baths and entry barred at various points in the city, specially the mela zone, these info-centres have proved quite helpful.
"Haridwar has changed drastically since the last Ardh Kumbh in 2004. On one side is the traditional Har-ki-Pauri area while on other side is the industrial area. It is fast assuming the shape and size of a mega city. During a mega event, these information kiosks prove helpful to outsiders who want to go about the city" said Ranbir Sethi, who has come with his family from Ludhiana.