Life normal in Haridwar, but pilgrim rush to return on Jan 20
Now, mela admn focuses on Basant Panchami bath
Sandeep Rawat
Tribune News Service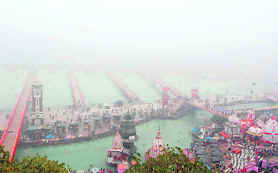 An early morning view of the Har-ki-Pauri shrouded in fog.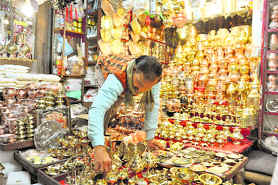 A shopkeeper awaits customers in the mela area.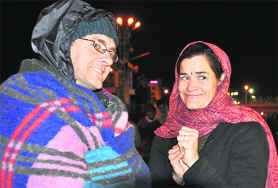 Foreigners try to protect themselves from intense cold in Haridwar on Sunday. Tribune photos: Rameswhar Gaud and Vinod Pundir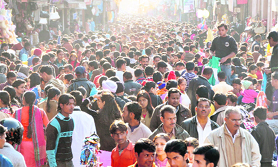 Chock-a-block: A view of Sunday Bazar at Paltan Bazar in Dehradun. Tribune photo: Vinod Pundir

Haridwar, January 17
It was quite surprising to see the same Har-ki-Pauri mela area, which had been thronged by around two million people in the back-to-back holy baths of Makar Sakranti and Mauni Amawasya, quite barren today. Though pilgrims were taking a dip in the holy Ganga, the Har-ki-Pauri area seemed to have gone into total silence.
Pilgrims who thronged Haridwar for the two holy baths have left for their respective destinations and now it is usual affair at the Ganga ghats with people engaged in normal rituals and local ones outnumbering the pilgrims from other states to be seen.
While on both holy baths there was bright sunshine in Haridwar, foggy conditions prevailed the very next day of Mauni Amawasya. A weak influx of pilgrims has been attributed to severe cold and low visibility due to fog.
Similar is the case with railway station, bus station and taxi stands, which otherwise on both days seemed quite chaotic.
But, this is only a short gap. The crowd will revisit the Har-ki-Pauri ghat on January 20 when the third festive holy bath of the Maha Kumbh, ie of Basant Panchami, falls. Though people's rush has decreased and the mela administration, including the police, seems to be taking a rest, the preparations are in full swing for the third holy bath.
The mela police is chalking out plans and reviewing the whole situation so that it makes a hat-trick of successful hosting and completion of holy baths of century's first Maha Kumbh.
While in previous years around two lakh devotees would visit Haridwar to take a dip in the Ganga on Basant Panchami, this time the day falling during the Maha Kumbh it's expected that a minimum of half a million people will throng the ghats.
The mela administration is looking into loopholes that surfaced during the first two festive baths on January 14 and 15. Though from the security point of view and traffic regulation, the mela administration did a commendable job with traffic in charges getting accolades from senior police officers, this time the administration wants to take the coming holy bath as a trial of preparations for the first Shahi Snan on February 12 on the occasion of Maha Shivratri, a prominent festival of the Hindus celebrated nationwide.
DSP (Traffic) Shweta Chaubey says as Haridwar city has limited highway and road options, with only one way for entering and exit in the mela area, the management of traffic is of prime importance, apart from the security aspect. Various alternative traffic routes are being devised.
Meanwhile, many pilgrims have decided to be in the city for a week time so that they can attend all three holy baths. "We thought it better to stay for the Basant Panchami bath also as the Maha Kumbh comes once in 12 years," said Savitri Dimri from Karnaprayag district and Shakuntala Nautiyal from Dehradun, who have been staying at the house of one of their relatives in Shri Nath Nagar.
(More Maha Kumbh stories on page 3)