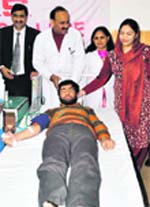 A blood donation camp being held in Government Medical College Hospital in Jammu. Photo: Inderjeet Singh
BJP to protest against price rise
Jammu, January 18
BJP state president Shamsher Singh Manhas, while expressing grave concern over the rise in the prices of essential items, today declared that the party had launched a week-long programme in all mandals of the Jammu province to expose the Congress-led UPA for its anti-people policies.
Number of active militants
No rewards for guessing right
Jammu, January 18
How many terrorists are active in the state? The usual answer has been about 700 since January last year. Every person, worth asking the question, have been reiterating the same number even though over 300 militants have reportedly been killed in the last 12 months and the authorities have been claiming negligible infiltration took place during the period.
Basu a 'symbol of democratic values'
Jammu, January 18
Leaders of all political parties today paid tributes to former West Bengal Chief Minister Jyoti Basu, who died in Kolkata yesterday, at a condolence meeting organised by the state committee of the CPM. The meeting was presided over by MY Tarigami, state secretary of the party.
MLA conducts surprise check at Nari Niketan
Jammu, January 18
Poonch MLA Aijaz Jan conducted a surprise checking on Nari Niketan, Poonch, yesterday, to verify the condition of inmates living therein.
Varsity misleading people: NSF chief
Jammu, January 18
The National Secular Forum (NSF) today criticised the authorities of the University of Jammu for allegedly shielding the accused of marksheet tampering and mass copying case.
Valley traders threaten to suspend cross-LoC trade
Blame Amritsar exporters for ban on import of some items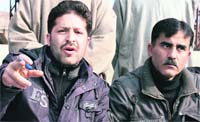 Srinagar, January 18
Traders in the Kashmir valley, engaged in trade with their counterparts in the PoK, today blamed exporters in Punjab, especially Amritsar, for creating hurdles in the smooth conduct of the trade. They threatened to discontinue trading if the ban on the import of certain items was not lifted.
Islamabad Chakothi Traders Union leaders address a press conference in Srinagar on Monday. A Tribune photograph
MC staff go on strike
Srinagar, January 18
Around 5000 employees of the Srinagar Municipal Corporation (SMC) today proceeded on an indefinite strike, demanding the implementation of the commitments made by the government to them after it was reorganised as a corporation from the council.
Slathia's rival to join Cong on Jan 20
Coalition partners to hold parallel functions
Jammu, January 18
The stage is set for a show of strength between the coalition partners NC and Congress at Vijaypur on January 20, as both parties have announced to organise 'massive' public rallies the same day.
Crucial APHC meeting on Wednesday
Srinagar, January 18
Two days after his return from Delhi where he met leaders and diplomats from Pakistan and other countries, Hurriyat Conference chairman Mirwaiz Umar Farooq has called a meeting of the general council here on Wednesday.
Hideout busted in Kishtwar
Jammu, January 18
In the 20-year-long militancy, the state police for the first time recovered six anti-tank rifles and state-of-the-art sophisticated weaponry from a militant hideout in Kishtwar district today.
Complete projects, direct ministers
Srinagar, January 18
Directing the revenue authorities to remove all bottlenecks with regard to land acquisition, the chairman and vice-chairman of the District Development Board Kupwara (DDBK) yesterday said it was vital for completion of all flagship programmes under various central and state schemes within the scheduled time.
Army flags off educational tour
Jammu, January 18
The Rashtriya Rifles today sent a group of 34 school children on an educational tour 'Paigam-e-Aman' to Mumbai and Pune under Operation Sadbhavana.
Suicide bid
Jammu, January 18
A woman allegedly attempted suicide at her house in Roop Nagar area here today. The woman has been identified as Ram Kali, wife of Hem Raj. She was admitted to Government Medical College in a critical condition after she consumed poison, the police said. A case has been registered. — TNS
Tribune staffer bereaved
Jammu, January 18
Dina Nath Kaul, grandfather of Sunaina Kaul, Staff Reporter of The Tribune here,died after a brief illness on Monday. He was 92.The cremation will take place at the Shakti Nagar cremation ground at 12.30 pm. — TNS