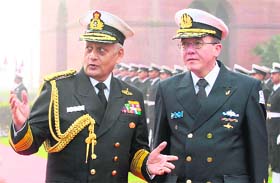 Navy chief Admiral Nirmal Verma with Commander-in Chief of Israeli Navy Vice-Admiral Elizer Marom at South Block in New Delhi on Tuesday. Tribune photo: Manas Ranjan Bhui
Engineering college ransacked in Chennai
Chennai, January 19
Students of Saveetha Engineering College, one of the 44 deemed universities which will lose their status, ransacked the institution this morning, destroying the furniture and other facilities at the college following the Centre's affidavit in the Supreme Court.
Two 'suspicious' men held near BARC
Mumbai, January 19
Two men entered the area around the Bhabha Atomic Research Centre (BARC) and fed inputs on road topography into their wireless communication service GPRS arousing suspicions of people against the backdrop of US terror suspect David Headley having reportedly conducted a recce there.
First indigenous influenza vaccine by April
New Delhi, January 19
India will get its first indigenous influenza vaccine by April this year, with the government granting approvals for clinical trials to four Indian firms, one of which - Zydus Cadila - began testing the vaccine on humans on January 3.
Best-ever WC in Delhi: FIH chief
New Delhi, January 19
International Hockey Federation (FIH) president Leandro Negre said here today that the recent stand off between the Indian players and Hockey India was an "internal affair" and he was confident that India would mount the "best ever" Hero Honda World Cup Championship in Delhi from February 28 to March 13.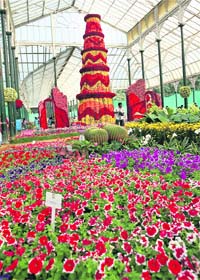 A floral replica of Qutab Minar stands tall during a flower show organised ahead of Republic Day celebrations, in Bangalore on Tuesday. — PTI
Gadkari: BJP will not allow Kashmir autonomy
New Delhi, January 19
The BJP will never allow autonomy of Kashmir, asserted its president Nitin Gadkari here today. Gadkari was addressing members of Panun Kashmir at a function organised by the Dr Shyama Prasad Mukherjee Research Foundation to commemorate fleeing of Kashmiri pandits from the Valley on January 19, 1990.
Bt brinjal safe: Govt
New Delhi, January 19
Amid raging debate over the release of Bt brinjal for commercial use, Science and Technology Minister Prithviraj Chavan today supported the genetically modified product for the first time, saying the controversial variety of the vegetable was "safe for all".
Opposition due to fear, say experts
Bangalore, January 19
Ruing resistance to commercial cultivation of Bt brinjal in various parts of the country, biotechnology industry leaders and experts today said the opposition to the crop was induced by fear and did not have any scientific basis.
Govt for separate cadre of rural docs
New Delhi, January 19
Health Minister Ghulam Nabi Azad today said the government is in process of creating a separate cadre of rural doctors, who could be posted at the 1,35,000 sub-health centres at the village level, where dearth of trained medical practitioners was a constant issue.
Haryana SP in soup over fake SC tag
Chandigarh, January 19
A show-case notice for dismissal from service has been issued by the Ministry of Home Affairs to 1986-batch Haryana cadre police officer Sanjay Bhatia, at present posted in the State Crime Record Bureau, Madhuban (Karnal) as SP, for submitting a fake Scheduled Caste certificate at the time of joining service.
HC verdict on Mathur panel: Rajasthan may move SC
Jaipur, January 19
The state government is considering to move the Supreme Court against the Rajasthan High Court order which declared the Mathur panel illegal and asked it to hand over the probe into allegations of corruption against Vasundhara Raje-led previous BJP regime to the Lokayukta.
India-Malaysia ties to witness new beginning
New Delhi, January 19
As part of its "Look East" policy, India is poised to intensify its economic and commercial cooperation with Malaysia with the two countries looking at the possibility of an early conclusion of a free trade agreement (FTA).
Phalke award for cameraman VK Murthy
New Delhi, January 19
Legendary cinematographer VK Murthy has been chosen for the prestigious Dada Saheb Phalke Award for the year 2008. The award is conferred annually by the government for outstanding contributions to films, based on the recommendations of a committee of eminent persons.
First Person Account
Meeting a coin collector on Ganga's bank
Haridwar, January 19
As I walked out of Lahore House on Neeranjani Akahara Road on a cold foggy morning to go to nearby Haveli Hari Ganga, where a friend was waiting for lunch, there was not even a single rickshaw for hire in sight.
Indian-origin scientist bags top Australian award
Chandigarh, January 19
Indians in Australia are in news not only for wrong reasons but also for recognition of their contribution in research in health care and other human welfare fields. An Indian-origin Australian researcher Professor Ralph Martins who has been conducting research on Alzheimer's disease, has been named western Australia's Australian of the Year.
Brave kids call on Prez
New Delhi, January 19
Selected for the National Bravery Award 2009, Afsana Khatum, Rekha Kalindi and Sunita Mahato, met President Pratibha Patil today. They would have been victims of child marriage at the age of eleven years, had they not shown exemplary courage to revolt against their parents and say no to their proposal in September 2008.
Delhi fog may ground IAF's R-Day flypast
New Delhi, January 19
IAF wants to put up an impressive flypast to show its newly acquired Airborne Warning and Control System and 28 warplanes at this year's Republic Day parade in the Capital. But, it fears the Delhi fog could play a spoilsport.
Family ties help in politics: Rahul Gandhi
Bhopal, January 19
Congress general secretary Rahul Gandhi today admitted that people from political families have the benefit if they want to enter politics. Addressing mediapersons in Bhopal, he said family ties definitely helped in politics and that he attained a mark in politics because of his family background.
2 students end life over Telangana
Hyderabad, January 19
Apparently depressed over the delay in formation of separate Telangana state, yet another two students allegedly committed suicide by setting themselves ablaze. The charred body of K Venugopal Reddy (23), an MCA student of a private college, was found near Tagore auditorium on the Osmania University premises here today, the police said, adding it was burnt beyond recognition.
Army chief suffers hearing loss
New Delhi, January 19
Army chief Deepak Kapoor suffers from hearing impairment after exposure to heavy booming sound of artillery guns during a demonstration on anti-terror operation in the US in July last year.