Cases registered on INLD, Congress complaints
Money distributed: Abhey
Cong man kidnapped: Mullana
Sushil Manav
Tribune News Service
Ellenabad, January 19
Levelling allegations of distribution of money to influence voters, INLD workers today "caught" a person from Kirpal Patti village and handed him over to the police. The Congress, on the other hand, alleged that INLD workers "kidnapped" its worker while he was having his meals.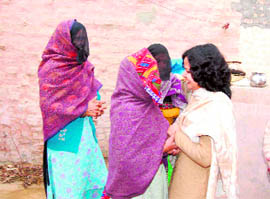 CPS Sharda Rathore seeks votes in Randhawa village on Tuesday. Photo: Amit Soni
"I was informed by my workers that two Congress workers, Balwinder Singh and Partap Singh, were distributing money among villagers to influence them into voting for the Congress," said Abhey Singh Chautala, INLD candidate.
He said by the time he reached there with his party men, people had nabbed him with Rs 50,000 and handed him over to the police.
"By that time, he had already distributed Rs 50,000 among villagers," he alleged.
However, HPCC president Phool Chand Mullana alleged that INLD worker Devinder Singh, spouse of the sarpanch of Kirpal Patti village, was distributing money among villagers to which his brother, Balwinder Singh, and a villager from Kanganpur, Partap Singh, both Congress workers, objected.
Mullana alleged that Devender Singh came with Pardeep Kumar, Kuldeep Singh and Manoj Bandi of Chautala village, Pawan Beniwal of Darba village and Mahavir Bagri of Sirsa and "kidnapped" Partap Singh in a vehicle (HR 25 4917) while he was having his meals.
Mullana further alleged that patwaris Harish and Rakesh Sharma had been distributing money among villagers to influence them into favouring the INLD.
The police, meanwhile, said, it had received two complaints and registered cases on both.
SP Shrikant Jadhav said Balwinder Singh and Partap Singh had been booked under Section 171-E and 136 of the the Representation of People's Act on the complaint of Devinder Singh.
The police has also booked Devinder Singh, Balwinder Singh, Paras and Baldev, all residents of Kirpal Patti, under Sections 323, 506 and 342 of the IPC for assault, criminal intimidation and wrongful confinement.
The high-voltage campaigning for the Ellenabad assembly seat ended last evening with the main contenders, the Congress and the INLD, organising rallies at Ellenabad town and Nathpa Chopta, respectively, in a show of strength. Both parties held their rallies in areas of influence and served Bollywood"tadka".