Bonding with school children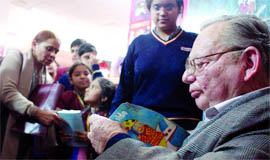 The 19th New Delhi World Book Fair began in the Capital today with book lovers flocking counters frantically searching for their favourite books. The main highlight of the day was Ruskin Bond as he landed at the fair, meeting schoolchildren and signing copies for his fans.


Ruskin Bond signs autographs for children at the fair. Tribune photo
Stadiums: PWD uses innovative designs; saves money
New Delhi, January 30
The Public Works Department (PWD) has reportedly saved crores of rupees with the completion of its two major stadiums. It has ruled out the possibility of quality compromise to achieve the cost-cutting target.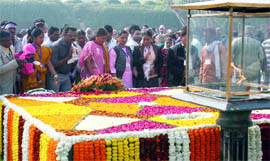 Visitors pay homage at Rajghat, the memorial of Mahatma Gandhi in New Delhi on Saturday. Tribune photo: Mukesh Aggarwal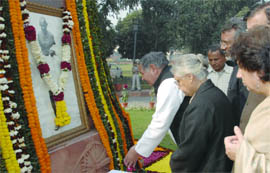 Delhi Legislative Assembly Speaker Yoganand Shastri along with Chief Minister Sheila Dikshit and Deputy Speaker Amrish Singh Gautam pay floral tributes to Mahatma Gandhi on the Delhi Assembly premises. Tribune photo
Five get 8 years in jail for gangrape
New Delhi, January 30
A Delhi court today sentenced five men to eight years of rigorous imprisonment for committing gangrape of a woman five years ago on the pretext of giving her a job.
Cop gets 3-yr jail for bribery
New Delhi, January 30
A trial court yesterday convicted a Delhi police constable in a graft case and sentenced him to three years' rigorous imprisonment.
Produce Madani, Kolkata jail told
New Delhi, January 30
A city court yesterday sought an explanation from Kolkata jail superintendent as the jail authority failed to produce Madani before the court. It has directed the jail superintendent to ensure that the accused is produced either through electronic video linkage (EVL) or personally on February 16, the next date of hearing.
Three held for trading in leopard skin
New Delhi, January 30
The Delhi police today claimed to have busted a gang of criminals allegedly involved in trading in animal skin and arrested three men— Satish Thakur (27), Vipin Kumar (28) and Mahender Nath (21). The police also claimed to have seized skin of four leopards from them.
Robbers held
New Delhi, January 30
The staff of Muthoot Finance Company on Deshbandhu Gupta Road overpowered three robbers at their office. — TNS
Homoeopathy promoted
New Delhi, January 30
Delhi health and family welfare minister Kiran Walia today said that homoeopathy enjoyed a high reputation and that its remedies had been traditionally used in India for over 150 years.
Starry opening of Gurgaon's Kingdom of Dreams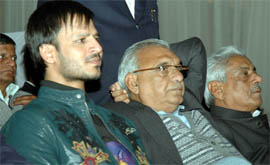 Gurgaon, January 30
Haryana Chief Minister Bhupinder Singh Hooda yesterday inaugurated a live entertainment and leisure destination- Kingdom of Dreams- in Sector 29, here. Addressing the gathering, he said the Opera Theatre of this centre would be a cultural centre of world fame.


Vivek Oberoi along with other spectators. Tribune photo: Sayeed Ahmed
14 builders bid for 7 housing plots in Noida
The cost of these plots at the reserve price of Rs 20,400 per sq mt is Rs 1,232 crore
Noida, January 30
Fourteen builders submitted their bids for seven group housing plots in Noida on Friday. Financial bids will be opened later after the scrutiny of technical papers. Cost of these plots calculated at the reserve price of Rs 20,400 per sq mt is Rs 1,232 crore. Actual bids will fetch authority more than this amount.
150 illegal phone towers sealed, network affected
Noida, January 30
The Noida Authority during its two-day drive, from Saturday afternoon till Sunday evening, sealed around 150 unauthorised mobile phone towers of various companies.
2 Koreans hurt in accident
Greater Noida, January 30
Two Koreans were injured on the Noida- Greater Noida Expressway when their car rammed into a pole today. The mishap happened as the driver lost control of the vehicle after a tyre punctured.