Close shave for school kids
Bus rams into level crossing barrier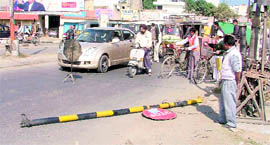 Ludhiana, January 30
Around 40 children of a CBSE school located near Hambran road had a narrow escape after the bus ferrying them rammed into a level crossing barrier near Sacred Heart School here this morning. The impact was so strong that the iron barrier broke. The incident took place around 8.30 am when the barrier was being lowered in view of an approaching train.
The iron barrier which broke after being hit by a school bus in Ludhiana on Saturday morning. Photo: Inderjit Verma
City celebrates birth anniversary of Guru Ravidas
Mandi Ahmedgarh, January 30
The birth anniversary of Guru Ravidas was celebrated here today. The functions were held at the Gurdwara Bhagat Ravidas, Jandali road, and Ambedkar Bhawan, Amarpura. Akhand path and kirtan were organised in different gurdwaras. Langar was also served to devotees.
Power Cuts
Effigy of SAD-BJP govt burnt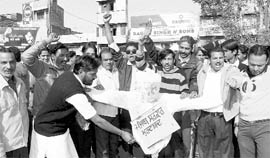 Ludhiana, January 30
Activists of Bhartiya Valmiki Dharam Samaj (Bhavadas) today burnt the effigy of SAD-BJP government for frequent power cuts even during winters. Rajesh Khokhar, state president of the outfit, along with the agitators said it was disappointing that the government had failed to supply uninterrupted power supply even during the winter season.
Activists of Bhavadas burn an effity of the SAD-BJP government in Ludhiana on Saturday. A Tribune photograph

City forgets Bapu
Ludhiana, January 30
In what could only be termed as sheer indifference towards national heroes, the city today forgot to observe the death anniversary of Mahatma Gandhi. However, the district administration and the Congress paid tributes to Bapu, but the administration forgot to sound a hooter to announce the official two-minute silence in the memory of the Father of the Nation.
Principals sensitised on evaluation
Ludhiana, January 30
Heads of several CBSE-affiliated schools in the state attended a one-day advocacy and training programme on the continuous comprehensive evaluation (CCE) scheme introduced by the CBSE as part of its examination reforms.
120 delegates attend seminar at GNN College
Doraha, January 30
A total of 120 delegates from all over Punjab, including Ferozepur, Chandigarh, Ludhiana, Khanna, Amritsar and Gobindgarh Mandi attended the one-day national-level seminar on 'Changing Dimensions in Indian Financial Sector' sponsored by ICSSR and organised by the Postgraduate Department of Commerce and Business Administration at Dr Ishwar Singh Memorial Hall of Guru Nanak National College, here today.
Farmers visit PAU campus
Ludhiana, January 30
A 32-member delegation of farmers visited the PAU campus here yesterday. The delegation members were shown around the demonstration area, PAU apiary and other landmarks. The members showed keen interest in wheat crop. Additional director of communication Dr Jagtar Singh Dhiman explained the organisational set-up and technology generation and dissemination programmes of the PAU.
Seminar on right to education
Raikot, January 30
The management of Sadbhavna College of Education for women organised a state-level seminar on Right to Education Act here today. The seminar was presided over by Dr RK Sharma, dean, Punjab University Chandigarh, while Bikramjit Singh Khalsa, chief parliamentary secretary, was guest of honour.
Land Acquisition
Farmers form front against GAIL authorities
Raikot, January 30
Those farmers, who will be affected by the acquisition of their agricultural land for laying down the gas pipeline by GAIL, have formed a front to fight the monopolistic attitude of the company. The gas pipeline will be passing through the villages of Raikot.
Traders file VAT returns
Ludhiana, January 30
Huge rush of traders to file VAT returns at the Sales Tax Department was witnessed here today. Starting from early morning, traders were seen making beeline at the office to file the returns. Though the last date of filing the VAT returns has been extended till Monday, but majority of traders preferred to file returns today itself to avoid unnecessary, last -minute botherations. According to sources, between 11and 3 pm, when power cut was imposed, the work was paralysed at the department. One of the employees on condition of anonymity disclosed that the department had no genset, so work was affected.
| | | |
| --- | --- | --- |
| | | |
Youth found murdered
Ludhiana, January 30
A 27-year-old youth who went missing from Tibba road on January 26, was found murdered with sharp-edged weapons here today. His body was recovered from the Sidhwan canal. The victim has been identified as Atul Kumar, alias Ravi, a resident of Company Bagh Colony, went missing under mysterious circumstances from Tibba road on January 27.
Couple killed in accident
Raikot, January 30
A middle-aged couple got killed in a head-on collision today. The deceased identified as Dr Phugan Singh (45) and his wife Jasbir Kaur (42) of Farwahi village of Sangrur district were in their Maruti Car (PB 10 AH 6874) and were on their way towards Raikot when a truck trailer (HR 37 3052) going towards Barnala hit it head-on killing both of them on the spot.
Husband booked for abetting suicide
Mandi Ahmedgarh, January 30
Failing to endure alleged atrocities of her husband any more, Rajwinder Kaur (32) of Kalakh village in Ludhiana district, ended her life by hanging herself with her duppatta. She forced her two minor children to go out of her room before committing suicide.
Gangsters drug driver, take away car
Timely action by Chhappar residents saves his life
Mandi Ahmedgarh, January 30
Timely action by residents and civic body of Chhappar village saved the life of a driver, who was thrown out of a car in an unconscious condition in the field, by members of an inter-state gang of vehicle snatchers yesterday.
150 quintals of wheat seized
Ludhiana, January 30 The district food and supply corporation seized a truck loaded with 300 sacks of wheat, weighing around 150 quintals, meant to be sold under the public distribution scheme (PDS) near the bus stand here late last evening.
3 booked for assault
Raikot, January 30
The police booked three persons, including an NRI for entering into the house of Pardeep Singh of Talwandi Rai village and assaulting old ladies at home and then firing in the air. Complainant Pardeep told the police that Kanwal Singh of his village, presently in Canada, came to his house around 8 pm along with his accomplices identified as Gurpreet Singh of Boparai Khurd village near Sudhar and Baldev Singh of Jalaldiwal village near here.
Thieves decamp with vehicle
Jagraon, January 30
A gang of thieves last night decamped with a Bolero jeep, a licensed double-barrel gun and ammunition kept inside the jeep. Dalvir Singh of Waizdke Kalan village near Barnala has complained to the Jagraon police that he along with family had come to attend a marriage function held at Over Seven Seas Resorts on the Ludhiana Road, Jagraon, around 8 in the evening. He went inside the resort but kept his licensed double barrel riffle (No. 12769) of Ansaaf Brand and 25-live cartridges in their white Bolero jeep (PB 10 CB (T) 7985) itself.
2 booked
Raikot, January 30
The Raikot police booked two persons, including the husband and his mother in-law of Jasvir Kaur for abetment to suicide. Jasvir Kaur of Roomi village was married to Harwinder Singh of Burj Hari Singh village near Raikot. She was found hanging from the ceiling fan of her room on September 18 last year.
Shuttler to represent country
Ludhiana, January 30
The year 2010 has started well for the local shuttler, Pranav Chopra, as this promising player, after wrapping up the doubles and mixed doubles titles in the Major Junior National Ranking Badminton Tournament held at Nellore, last week, is now chosen to represent the country in an international tourney.
SAI trials conclude
Ludhiana, January 30
The three-day selection trials conducted by the Sports Authority of India (SAI) at the sports complex near Guru Nanak Stadium concluded here today. More than 200 aspirants came for trials to select the players in six disciplines, including athletics, basketball, judo, handball, volleyball and weightlifting under the residential and non-residential schemes of the SAI.