PUNJAB
HARYANA
JAMMU & KASHMIR
HIMACHAL
REGIONAL BRIEFS
NATION
OPINIONS
LETTERS
BUSINESS
SPORTS
WORLD
M A I N N E W S
62 years after death, Gandhi's ashes immersed off Durban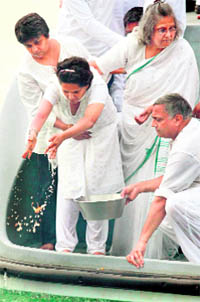 Mahatma Gandhi's family members perform a ritual after immersing his ashes in the sea off the city of Durban on Saturday. — AFP
Durban, January 30
Sixty two years after Mahatma Gandhis's assassination, ashes of the apostle of peace, preserved by a family friend, were finally immersed in the Indian Ocean off the South African coast today.
"It was a beautiful ceremony attended by more than 200 people," Ela Gandhi, granddaughter of Mahatma Gandhi, who led the sacred ritual, said. The Indian Ocean was chosen for the solemn event as it links the two countries on which he had such a profound influence, she said. And the day chosen for today's historic ceremony happened to be January 30, the granddaughter said which marks Mahatma Gandhi's death anniversary.
After Gandhi was assassinated in 1948, his ashes were distributed among family, friends and followers and handed over to his granddaughter by a family friend in whose custody they had been since they were brought to South Africa after cremation. Local businessman and an ardent Gandhian, Chagan "Chotoo" Thakur Bhoola, 85, recalled how he had transported Gandhi's ashes in an urn from Bombay to South Africa.
Bhoola, then 21, of Musgrave Road, one of Durban's pioneer Indian traders, recalled how in 1948 he had gone to India to marry Mani, 81, and attend Gandhi's funeral. "My close friend Sorabjee Rustomjee accompanied me to India. Shortly after Gandhi's funeral, India's Prime Minister Jawaharlal Nehru handed us his (Gandhi's) ashes in an urn," Bhoola said.
Normally, ashes are immersed in rivers or the sea within days, but Gandhi's ashes were divided and put in several urns and sent around India and across the globe so his followers could hold memorials. Bhoola said they left India by boat on June 8, 1948, and travelled to Mombasa where a memorial service was held for the father of Indian nation. "We then travelled to several African states, including Nairobi, where some of Gandhi's ashes were submerged in various rivers and lakes.
After more than 28 days we returned to Durban and the urn was placed at Sarvodaya, at Phoenix (Gandhi) Settlement in Inanda (north of Durban). Gandhi had started the settlement during his tenure here at the turn of the 19th century, undertaking various human rights projects across South Africa before returning to India. Bhoola said some of the ashes were removed from the urn and kept by Vilas Mehta, a close friend of Gandhi's son Manilal, who remained behind in South Africa to continue his father's work.
Mehta entrusted the ashes to her daughter-in-in-law Chanda Mehta, who recently gave them to Ela Gandhi because she believed it should be with the family. Gandhi then arranged the ceremony this morning, at a point where the Umgeni River joined the sea in 1948. A prayer service and night vigil in memory of Gandhi preceded the ceremony, which was followed by another more public prayer service to commemorate the 62nd death anniversary of Gandhi's assassination the City Hall here. And finally the ashes in urns were taken by boat for the final immersion. Boats carrying the ashes were escorted by South African Navy vessels. — PTI