Protesting KMC students, teachers get into scuffle
New Delhi, February 3
Teachers and students of the Kirori Mal College on Delhi University's (DU) North campus today got into a scuffle during a students' protest against price rise.
JNU launches Hindi website
New Delhi, February 3
One of India's best academic institutes Jawaharlal Nehru University (JNU) has made itself accessible to thousands of more students by launching its Hindi internet edition today.The university has re-launched its English website in Hindi by translating all its contents.
Good diet, education must for kids: Yusuf
New Delhi, February 3
Delhi food supplies minister Haroon Yusuf at the annual function of Gurusharan Convent Senior Secondary School emphasised on the need of nutritious diet and good education for the holistic development of an individual, particularly children who are growing up.
e-books or hard copies? Debate continues
New Delhi, January 3
At a time when online publications are eating into the readership of their printed counterparts, a software that promises readers online versions of bestsellers without denying authors their share of profits is making buzz at the international book fair at Pragati Maidan.
Ghaziabad to have eco park
Ghaziabad, February 3
The Ghaziabad Municipal Corporation has planned to develop an ecological park behind Sai Upvan area.
Book on Pranab released
New Delhi, February 3
A coffee-table book on Union finance minister Pranab Mukherjee was released at World Book fair today.
Three in custody for threatening witnesses
New Delhi, February 3
Taking note of the threats given to witnesses appearing in case, a Delhi court today cancelled the bail of three persons accused in a robbery case. The three— Md Nasir, Nazim and Md Salim who were out on bail have been sent back to judicial custody.
Delhi police gets custody of serial blasts accused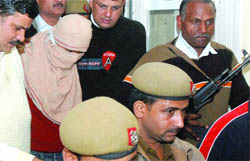 New Delhi, February 3
A Delhi court today sent Shahzad Ahmed, accused in September 2008 Delhi blasts, to three-day police custody. Ahmed, a suspected member of Indian Mujahideen (IM), was produced before the court in connection with the murder of inspector Mohan Chand Sharma.

September 2008 blasts accused Shahzad Ahmed at Patiala House Court in New Delhi on Wednesday. Tribune photo: Manas Ranjan Bhui
Ex-staffer of MCD guilty of graft
New Delhi, February 3
A Delhi court today sentenced a former employee in the property tax department of the MCD, to three years imprisonment in a graft case.
Cop dies in accident
New Delhi, February 3
A head constable posted with the Special Cell of the Delhi police died in an accident in Shahjahanbad (UP) this morning.
Constable shot at
New Delhi, February 3
A head constable of the Delhi police was shot at and injured by a criminal when he went to arrest him today afternoon.
Girl raped for 2 yrs on marriage promise
Greater Noida, February 3
A 24-year-old woman has lodged a rape case against a 30-year-old man for allegedly raping her for two years on the promise of marriage.
Man stabbed in robbery bid, one held
Noida, February 3
Two bike-borne men tried to rob a journalist, Sumit Kumar, near Jalvayu Vihar around 9.30 pm last night. When Kumar resisted, the bikers stabbed him.
Maldives delegation visits CBI HQ, CFSL
New Delhi, February 3
A delegation of Republic of Maldives led by Mohamed Shihab, minister of home affairs; Ahmed Faseeh, commissioner of police and Yoonus Sobah, deputy head of strategic development department visited the Central Bureau of Investigation (CBI) Headquarters and Central Forensic Science Laboratory CFSL today morning.