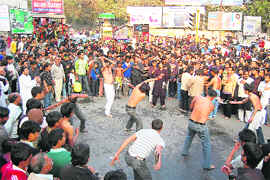 Karbala martyrs remembered
Dehradun, February 5
More than 2,000 persons today gathered in the city to mourn on the occasion of chehlum, which is observed in the memory of Karbala martyrs. Members of the Anjum Moinul Mominin, Dehradun, took out a procession to observe the martyrdom of Hazrat Imam Hussain, son of Hazrat Ali, from Imambara of Hazi Mohammad Ali Hasnain, East Canal Road.
Shia youths hit themselves with iron chains during the chehlum procession in Dehradun on Friday. A Tribune photograph
SP condemns proposed hike in fuel prices
Dehradun, February 5
The state Samajwadi Party (SP) has expressed resentment over the suggestions made by the central government panel for increasing prices of petrol, diesel and LPG gas.
Bar Council demands funds
Dehradun, February 5
Uttarakhand Chief Minister Ramesh Pokhriyal Nishank met a delegation of the Uttarakhand Bar Council led by their newly elected President Razia Beg last evening.
Heavy snowfall likely in hill areas
Dehradun, February 5
Uttarakhand is likely to experience a heavy snowfall even as a westerly disturbance is all set to hit the state from tomorrow.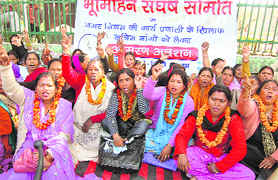 Samiti members go on fast
Dehradun, February 5
Members of the Bhumiheen Sangharsh Samiti went on a fast in protest against the anti-encroachment drive carried out by the Dehradun Municipal Corporation at Aman Vihar on the Sahastradhara road on February 2.
Women, who lost their homes during an anti-encroachment drive by the MC, protest at the Gandhi Park in Dehradun on Friday. A Tribune photograph

Anganwadi workers hold rally
Dehradun, February 5
Under the banner of the Uttaranchal Anganwadi Karamchari Sangh, Akhil Bharatiya Anganwadi Karamchari Mahasangh and the Bharatiya Majdoor Sangh, many workers took out a rally from roadways bus stand to the secretariat here today.
Uttarakhand anganwadi workers stage a protest in Dehradun on Friday. Tribune photo: Anil P Rawat

Residents protest against monkey menace
Nainital, February 5
More than 250 residents of Sitarganj, Nanakmatta and Shaktifarm areas in Udham Singh Nagar have approached the authorities in the Forest Department to take immediate measures to check the menace of monkeys in the area.
Commercial use of Bt brinjal banned
Dehradun, February 5
Chief Minister Ramesh Pokhriyal Nishank today announced a ban on the commercial use and cultivation of Bt brinjal in the state and even urged the Centre not to introduce it in the country.
3 hurt in wildcat attack; 1 hospitalised
Dehradun, February 5
Three persons were injured, one of them seriously, in a wildcat attack in the Dikuli region of the Corbett National Park.
Gang of thieves busted
Dehradun, February 5
The police today arrested six persons in connection with flesh trade and theft of cars from a house in Kewal Vihar, Raipur.